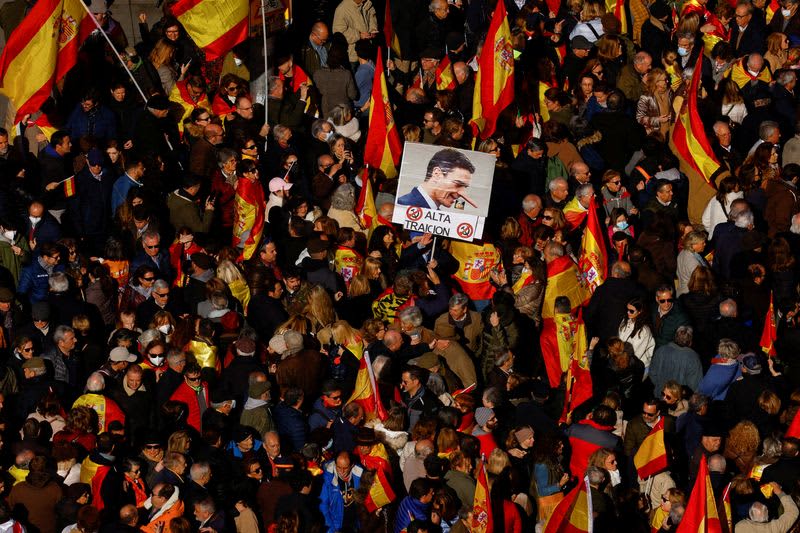 MADRID (RockedBuzz via Reuters) – Thousands gathered in central Madrid on Saturday to protest against the socialist government and accuse it of undermining the constitution, in a rally supported by right-wing parties.
Protesters massed in the Plaza de Cibeles in front of the city hall, waved Spanish flags, called on Prime Minister Pedro Sanchez to resign and shouted "traitor".
More than 100 groups – including the conservative opposition Popular Party, the centre-right Ciudadanos and the far-right Vox – called the demonstration under the slogan "For Spain, for democracy and the constitution".
Speakers slammed the government for a range of policies and decisions, ranging from the release of Catalan independence activists to its pacts with regional separatist parties. About 30,000 people attended, according to local government estimates.
Vox leader Santiago Abascal, the only party leader to attend, told the crowd that the government had "trampled the constitution by locking up Spaniards," in reference to the COVID lockdowns.
About 200km (120 miles) away, in the northwestern city of Valladolid, Sanchez told a socialist rally that protesters in Madrid were defending a "uniform" and therefore "discriminatory" Spain.
In June 2021, Sanchez's government pardoned the nine jailed leaders of Catalonia's failed 2017 independence bid "in the spirit of dialogue". His recent decision to replace the crime of sedition with a misdemeanor was opposed on the right.
(Reporting by Elena Rodriguez, Jessica Jones and Michael Gore, Writing by Jessica Jones, Editing by Andrew Heavens)