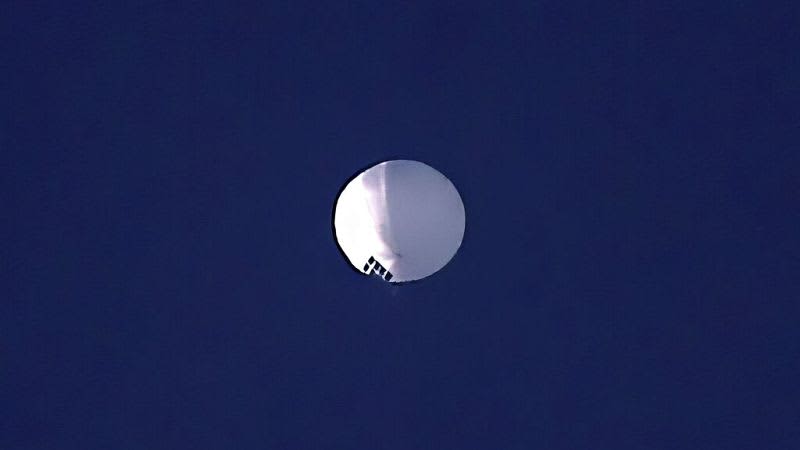 The United States has shot down a suspected Chinese spy balloon off the Carolina coast after it passed through sensitive military sites across North America and has become the latest flashpoint in tensions between Washington and Beijing.
The balloon was shot down by an Air Force fighter plane, according to two officials who were not authorized to discuss the matter publicly and spoke on condition of anonymity.
President Joe Biden told reporters on Saturday that "we'll take care of it," when asked about the ball. The Federal Aviation Administration and the Coast Guard worked to clear the airspace and water under the balloon as it reached the ocean.
Television footage showed a small explosion, followed by the balloon descending towards the water. US military jets were seen flying nearby and vessels were deployed to stage the recovery operation.
Officials had aimed to schedule the downing so that as much debris as possible could be recovered before it sank into the ocean. The Pentagon had previously estimated that any debris field would be substantial.
US Secretary of State Antony Blinken was scheduled to visit Beijing on Sunday for talks aimed at easing US-China tensions, the first such a high-profile trip since the countries' leaders met last November in Indonesia. But Washington has suddenly canceled the trip after the discovery of the huge mysterious balloon.
China downplayed the cancellation of a high-risk visit.
"Actually, the United States and China have never announced any visits, the United States making such announcements is their business, and we respect that," China's foreign affairs ministry said on Saturday morning.
China says the balloon was simply a weather-research "blimp" that went off course, but the Pentagon dismisses China's claims.
China sees first population decline in 60 years: How does Europe's demographics compare?
Blinken calls for "urgent steps" to restore calm between Israel and Palestine
US Secretary of State Antony Blinken's Israeli-Palestinian visit comes amid rising tensions
The balloon was spotted Friday over the state of Montana, which hosts one of three American nuclear missile silo fields at Malmstrom Air Force Base, defense officials said.
The Pentagon also acknowledged reports of a second balloon flying over Latin America. "We now evaluate that it is another Chinese surveillance balloon," said Brig. Gen. Pat Ryder, the Pentagon's press secretary, said in a statement.
China's Ministry of Foreign Affairs did not immediately respond to a question about the second balloon.
Watch the video in the player above.