The so-called bail-in bonds are raising funds that can be converted from a bond to equity by the regulatory authorities if they find intervention necessary. They were introduced after the European debt crisis, so that the costs of rescuing the banks would be borne primarily by investors, not taxpayers.
The bank's holding company has a total of nearly 76 billion Swiss francs of such bail-in and additional Tier (AT1) type bonds. The former can be converted into equity by the authorities, and the latter can be written off if the capital level falls below 7% (at the end of 2022, the CET1 capital ratio was well above that, at 14.1%), meaning that bondholders would even lose their invested capital in these cases.
The bank has 35 billion Swiss francs in Tier 1 (CET1) capital, which is the first zone of loss absorption. In case of intervention, this would be followed by the AT1 bond stock of 16 billion francs, then the Bail-in bonds amounting to 59.8 billion francs.
According to the website of the Swiss market surveillance authority, the primary resolution strategy of major Swiss banks is the "one-stop" rescue operation, which is carried out exclusively by the supervision at the headquarters. Bail-in bonds issued by the group's holding company are converted into equity if necessary.
Currently, investors pay 66 cents for one euro of Credit Suisse's 2.125% bail-in bond maturing in October 2026. "Credit Suisse's bond prices reflect the high likelihood of some sort of resolution occurring, resulting in losses for bondholders," said Jeroen Julius, senior credit analyst at Bloomberg Intelligence.
During the week, the bank's shares fell by nearly 25%, and the CDS spread rose to around 3,000 basis points amid fluctuating liquidity.
JPMorgan's analysts see the acquisition of Credit Suisse as a likely scenario, but the idea of ​​teaming up with the largest Swiss bank, UBS, is not liked by those involved. According to the analysts of Keefe, Bruyette & Woods, the bank bought time with the liquidity guarantee of the Swiss central bank, but breaking up Credit Suisse is the most likely solution.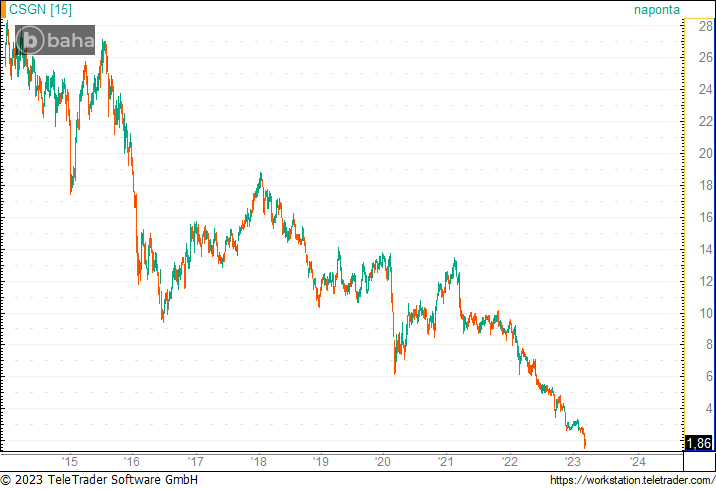 Cover image: Getty Images