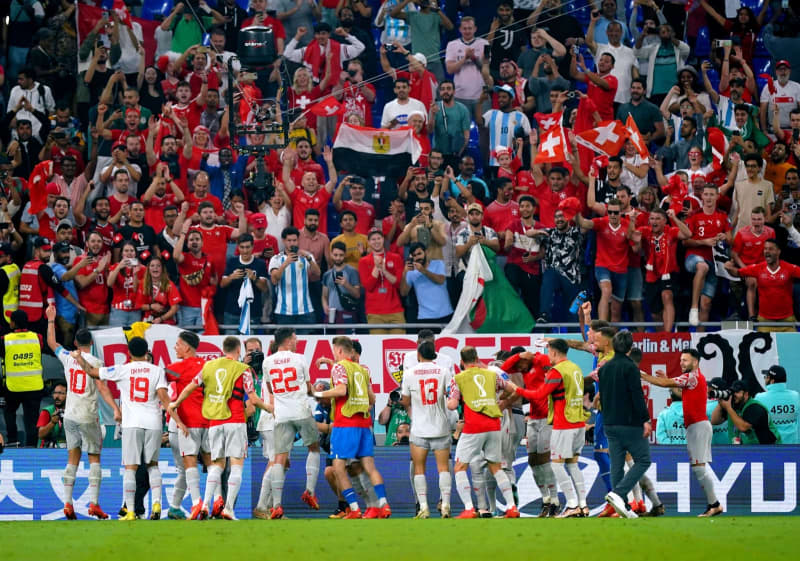 Remo Freuler sealed Switzerland's 3-2 victory in their match against Serbia to secure a place for the round of 16, as the group stage of the World Cup in Qatar ended with another spectacular on Friday.
Brazil had already qualified but finished first despite a 1-0 defeat by Cameroon, who were eliminated together with the Serbs.
Defeat to second-tier Brazil means neither team has won all their group games in Qatar.
The Swiss take on Portugal on Tuesday, while Brazil take on South Korea the day before.
Third consecutive qualification for the round of 16 at the World Cup for Switzerland, taking the lead through Xherdan Shaqiri and drawing 2-2 thanks to Breel Embolo.
Switzerland goalkeeper Gregor Kobel told ZDF: "It was a very emotional match. We fought a lot.
"It's the first goal achieved and there's a lot of joy. It's been a lot of fun."
The first knockout round line-up is now complete with eight teams from Europe, two teams from South America, two from Africa, three from the Asian Football Confederation including Australia, and the United States.
Switzerland have been without usual goalkeeper Yann Sommer and defender Nico Elvedi due to a cold at Stadium 974 in Doha.
But Shaqiri and Granit Xhaka, ethnic Albanians who caused an uproar against Serbia in Russia 2018 with their eagle celebrations in support of Kosovo, have started.
This time Shaqiri refrained from the gesture after sweeping a left footed shot inside the near post in the 20th minute for his fifth goal of the World Cup.
He put his finger to his mouth in a "shut up" gesture – apparently aimed at the Serbs – and indicated his name on the back of his shirt after becoming the first Swiss to score in three editions of the tournament.
Aleksandar Mitrovic equalized shortly after with a header, his eighth goal in his last seven international games. The cross, predictably, came from midfield master Dusan Tadic.
Serbia were then ahead when striker Dusan Vlahovic, making his first start in Qatar 2022, scored with a boot after Freuler's mistake.
Vlahovic also celebrated with his finger in front of his mouth and at that stage Serbia were going through.
But in a breathless first half, the Swiss leveled again when Breel Embolo converted Silvan Widmer's cross at the far post just before the break.
A well-crafted Swiss move early in the second period then allowed Freuler to make up for his early mistake with the goal to make it 3-2.
Tensions erupted as Serbia pressed, albeit unconvincingly, to get back into the game. Xhaka was at the center of some critical points as the match ended with a high 11 yellow cards from Qatar.
Brazil played their second XI against Cameroon, with Dani Alves becoming the country's oldest World Cup captain at 39.
Neymar, still absent with an ankle injury, was at Lusail Stadium watching as fans produced a choreography wishing Pele well after his hospital stay.
Cameroon still had a chance to be the third African team in the round of 16, but did not initially test a shadow Brazil enough.
Cameroon football federation president Samuel Eto'o sat watching in the stands and like manager Rigobert Song wished he had the lead in his prime.
Brazil had a few chances thanks to Rodrygo and Antony, but few of the other 'reserve' squad players made it through the audition.
One player who did was goalkeeper Ederson, who made a superb save from Bryan Mbeumo just before half-time.
The match was drifting to a goalless draw and then Vincent Aboubakar came through with a header in stoppage time.
He received a second booking and a red card for taking off his shirt in celebration as the Cameroon tournament ended on a bittersweet note.
"Today I am proud of my players. Of course we are disappointed but we can grow thanks to this," said Song.
Alves said: "Now comes the stage where you can't make any mistakes."