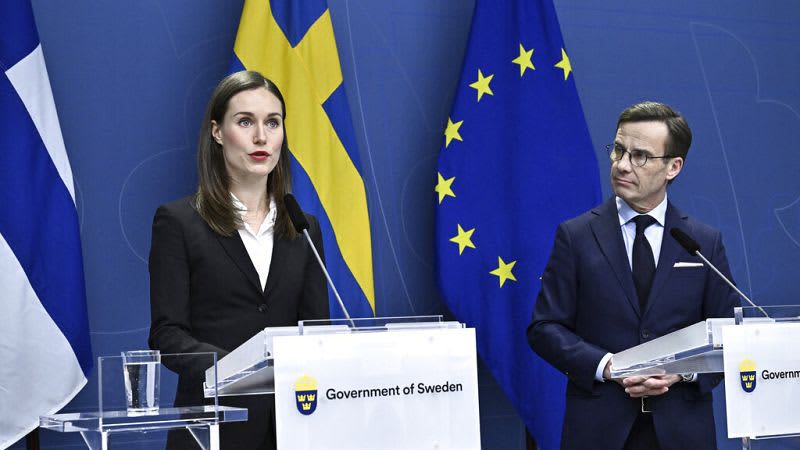 The Swedish government says it will further tighten its anti-terrorism laws to ban further activities linked to Kurdish militant groups, in hopes of persuading Ankara to drop objections to Sweden joining NATO.
Stockholm had already amended its constitution in November to pave the way for legal changes, which had been in the pipeline for several years.
"This is a broader criminalisation, targeting a large number of activities within a terrorist organization that are not concretely linked to a particular terrorist crime," Justice Minister Gunnar Strömmer explained at a press conference. .
Under the new bill, acts such as handling equipment, organizing rallies or meetings, cooking or handling transportation for organizations designated as terrorists would be criminalised. The government plans to put the bill to a vote in parliament in March, to be implemented from June.
Meanwhile the Finnish Prime Minister Sanna Marino he was in Stockholm on Thursday for a meeting with his Swedish counterpart Ulf Kristersson, in another public display of solidarity between the Nordic nations.
Marin told reporters that Finland wants to continue together with Sweden in the accession process and seems confident that the problems with Turkey will be overcome within the next NATO summit in Vilnius in the month of July.
"It is very important to send a clear message today. Finland and Sweden have applied jointly and it is in everyone's interest that we unite," said Marin.
"I don't like this view where Sweden is presented as the difficult child of the class," Marin said, adding that Sweden already meets all the membership criteria to join NATO.
Prime Minister Kristersson said he appreciated the "very clear messages" from Marin, the Finnish president Sauli Niinistö about this.
What does Turkish President Erdogan want?
Of the 30 NATO members, only the parliaments of Turkey and Hungary have not yet ratified the entry of Sweden and Finland, worried about their security after the Russian invasion of Ukraine.
Turkey has increasingly demanded action from Sweden, particularly against Kurdish groups it deems "terrorist organizations," including members of the Kurdistan Workers' Party (PKK) and allied groups in Syria.
The regular pro-Kurdish demonstrations in Sweden, where PKK flags are often flying, have been particularly irritating; but Sweden has also refused to extradite dozens of suspects Ankara links to outlawed Kurdish fighters and a failed 2016 coup attempt.
Under Sweden's new anti-terrorism legislation, participation in a demonstration or meeting of an organization considered to be terrorist will not in itself be punishable. Waving a flag would not be criminalized per se, but could potentially be used as evidence in court, authorities say.
Turkey has also reacted angrily to Swedish police's decision to allow a protest during which a far-right extremist burned a copy of the Koran outside the Turkish embassy in Stockholm in early January.
He was also outraged by a Swedish prosecutor's decision not to press charges against a pro-Kurdish group who hung an effigy of Erdogan by his ankles outside the Stockholm city court.
Following these incidents, Ankara last week suspended the two countries' NATO accession talks, but hinted that Finland's offer could be ratified, while Sweden's would be frozen.
Turkey rages after video of Kurdish group in Sweden calls Erdogan 'dictator'
Sweden to counter terrorist threats to satisfy Turkey's objections to NATO, new prime minister told Erdogan
Turkish President Erdogan tells Sweden he doesn't expect support for his NATO bid after Koran is burned
Poll: Small majority of Finns want to continue without Sweden
Meanwhile, a new poll reveals that a majority of Finns are in favor of their country joining NATO without waiting for Finland.
The poll, by the Finnish newspaper Ilta-Sanomat, showed that 53% of respondents believe that Finland should not "wait for Sweden" in the NATO accession process, even "if it will take longer to ratify due, for example , of the opposition of Turkey".
Only 28% think that the country should wait before joining the military alliance with Sweden. The researchers asked 1,021 Finns between January 30 and February 1.
The two countries applied for NATO membership together in May 2022 in response to Russia's invasion of Ukraine, although they had been closely aligned with the 30-member military alliance for several decades.