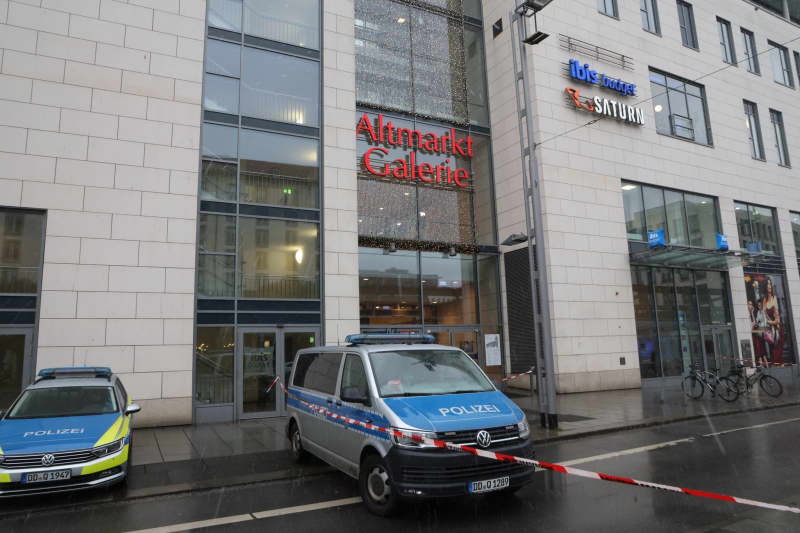 A 40-year-old man suspected of killing his mother, shooting at a radio station and then taking hostages at a shopping mall in the eastern German city of Dresden has died following a police operation, authorities said.
Both hostages, a child and a mall employee, were freed with no apparent injuries following the operation by a special tactics unit, according to police.
It was not immediately clear whether the suspect injured himself or was injured by police. A police spokesman declined to give further details on the operation. The exact circumstances of the man's death were part of the ongoing investigation.
The hostage situation at the Altmarkt-Galerie shopping center in central Dresden ended a string of violent incidents in three different locations in the eastern German city on Saturday.
It started when authorities discovered the lifeless body of the man's 62-year-old mother at around 7:20am (06:20am GMT) in an apartment building in the Prohlis district of Dresden.
The man then allegedly attempted to enter the offices of Radio Dresden at around 8:30 (07:30 GMT), according to the station's chief executive. He failed to get through the door but fired through a hole in the station offices.
Radio station personnel managed to escape with no physical injuries, the broadcaster said.
The suspect then allegedly went to the Altmarkt-Galerie shopping mall and barricaded himself in a room with the hostages. Police earlier said hostage negotiators had telephoned the man before the tactical unit entered.
Authorities said the man appeared to be psychologically disturbed and that investigators were proceeding assuming he was suffering from a mental illness.
Saxony Premier Michael Kretschmer has expressed his condolences for the victims and thanked the police after the hostage-taking and murder in Dresden, the state capital of Saxony.
"I am relieved that this threatening situation can be ended. I would like to thank all Saxon police forces involved for their decisive and prudent action," Kretschmer wrote on Twitter on Saturday. "We mourn a human life".