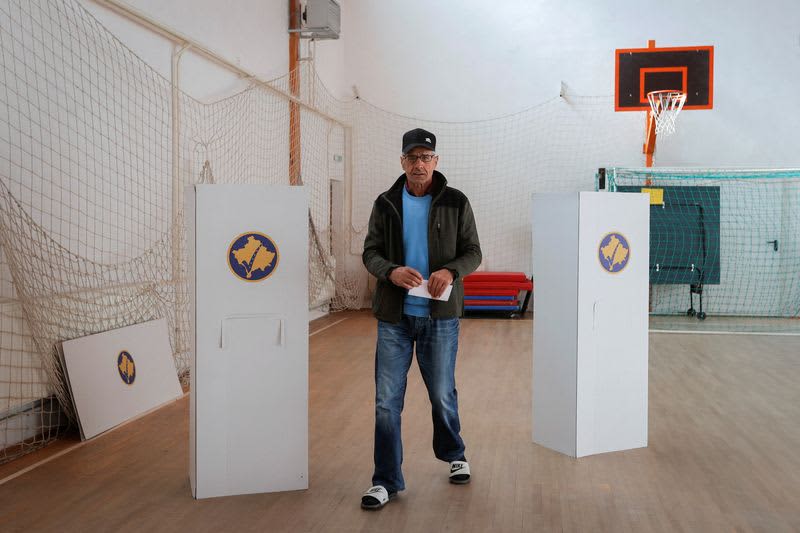 By Fatos Bytyci
ZUBIN POTOK, Kosovo (RockedBuzz via Reuters) – Serbs in northern Kosovo boycotted local elections on Sunday in protest that their demands for greater autonomy have not been met, another sign that a peace deal signed between Kosovo and Serbia last month is not working.
The main political party in Serb-dominated northern Kosovo, Serbian List, called on the Serb community on Friday not to vote on Sunday.
"Except in a few very rare cases, the Serbs are boycotting the elections," an official of the central election commission, who declined to be named, told RockedBuzz via Reuters on Sunday.
Serbia and Kosovo Serbs are calling for the creation of an association of Kosovo Serb municipalities, in line with an EU-brokered 10-year deal with the Kosovo government in Pristina, before they take part in the vote.
Fearing possible violence on Sunday, the Central Election Commission abandoned plans to put polling booths in schools and instead set up mobile barracks in 13 locations, while NATO troops from Latvia and Italy, part of a peacekeeping force 3,000 people in Kosovo patrolled the streets in the voting areas.
Election officials in Zubin Potok, a municipality inhabited mainly by Serbs, were standing by in case voters showed up.
"Whether someone votes or not, we have to keep the doors open," an official from Zubin Potok's electoral commission, who declined to be identified, told RockedBuzz via Reuters.
The voting booths were guarded by Albanian policemen who had arrived from other regions after 500 Serbian policemen, along with Serbian administrative staff and judges collectively resigned last November to protest the Kosovo government's plan to replace Serbian license plates with those of Kosovo.
Kosovo declared independence from Serbia in 2008, following the 1998-99 war in which NATO intervened to protect the ethnic Albanian majority, but Serbia has not recognized independence and the Kosovo Serbs consider themselves part of the Serbia and see Belgrade, not Pristina, as their capital.
Northern Kosovo is home to around 50,000 Serbs. On 18 March, Pristina and Belgrade verbally agreed to implement a Western-backed plan aimed at improving ties and defusing tensions in northern Kosovo, offering more autonomy to local Serbs with Pristina given ultimate control. But Serbs say the deal has yet to deliver concrete action.
"Democracy by force? No," said Jovan Knezevic, a Serb from the city of North Mitrovica, on why he would not vote. The Serbian community should have been consulted on whether to hold local elections, he said. "There has to be a compromise, there has to be an agreement," he said.
Albanians make up a majority of over 90% in Kosovo, but are a small minority in the north.
Only one of 10 candidates in Sunday's election was Serbian after another Serb withdrew.
Kosovo's prime minister-elect, Albin Kurti, said on Tuesday that Belgrade was intimidating northern Serbs not to participate in elections.
The European Union and the United States said last week that they were disappointed that the Serbs had decided not to participate in the elections.
(Reporting by Fatos Bytyci; Additional reporting by Branko Filipovic; Editing by Susan Fenton)