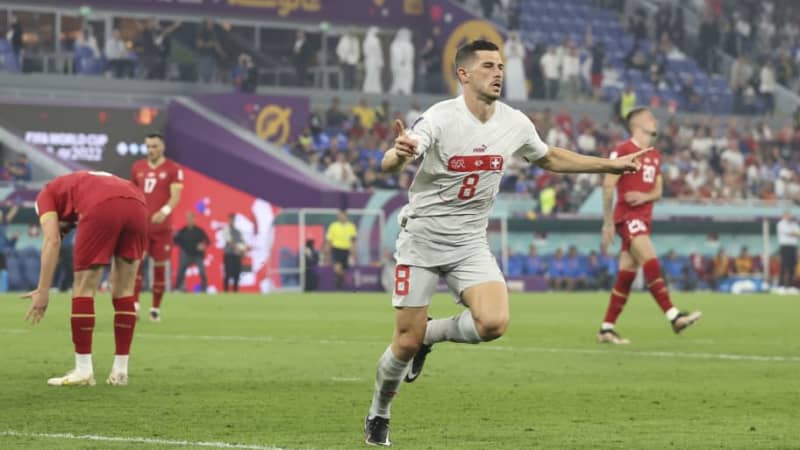 By Mitch Wilks
Switzerland weathered the storm from an action-packed Serbia by beating them 3-2 to secure a place in the round of 16 of the World Cup.
With Cameroon finding a stunning late win against Brazil in Group G, Switzerland's win proved crucial in the end when it came to securing second place.
As was the case with most Matchday 3 fixtures, the game was open from the start with both teams aware they had a real chance to advance. Breel Embolo came close to scoring minutes into the match, before Serbia fell the other way and came close to scoring from a corner.
Serbia began to dominate as the game calmed down a bit, trying to extend the game and hit their two forwards. However, Switzerland were well-prepared to break through the wing-backs and did exactly that by taking the lead after 20 minutes. Ricardo Rodriguez fired a ball into the box, which Djibril Sow picked up and put in the path of Xherdan Shaqiri who rocked it.
However, Dragan Stojkovic's side did not hold back and leveled just six minutes later when Aleksandar Mitrovic nearly scored with a tremendous header from Dusan Tadic's cross.
Shaqiri soon went from hero to zero. His sloppy pass towards his own goal saw Serbia leapfrog. Tadic picked up the loose ball and slipped into the middle of Dusan Vlahovic who, walking away from goal, turned over a Gregor Kobel shot and into the far corner to make it 2-1.
Obviously, however, three goals before the break weren't enough. Just like Serbia, Switzerland didn't panic and Embolo was careful to get to the far post and hit the second to send the match into a fast break.
The fast-paced nature of the game inevitably spilled over into the second half. A long ball from Switzerland turned into a clever pass from the edge of the penalty area, where Remo Freuler struck a great finish to give his side the lead once more.
An early second-half goal satisfied Switzerland as the game got underway, with Serbia suddenly looking more frantic and less likely to hurt Murat Yakin's side. Serbia failed to get Kostic and Tadic on the ball as consistently as they had in the first half, which hurt them significantly.
This showed in rather embarrassing amounts as Mitrovic flung himself to the floor looking for a penalty after 65 minutes, which obviously didn't fool the referee. Unfortunately, the incident irritated the Serbian bench, who came onto the pitch and caused a break in play, of a match they were chasing.
Taking Vlahovic off so early in the game seemed to be Serbia's downfall. Their goal threat faded and as the minutes wore on, the prospect of finding two goals to change the landscape of Group G looked increasingly unlikely.
Switzerland started looking like his more usual and composed self when he watched the game. Tensions boiled over again in injury time as Serbia failed to come close to finding an equaliser, showing their frustration at being knocked out of the World Cup.
Serbian player ratings (3-4-1-2)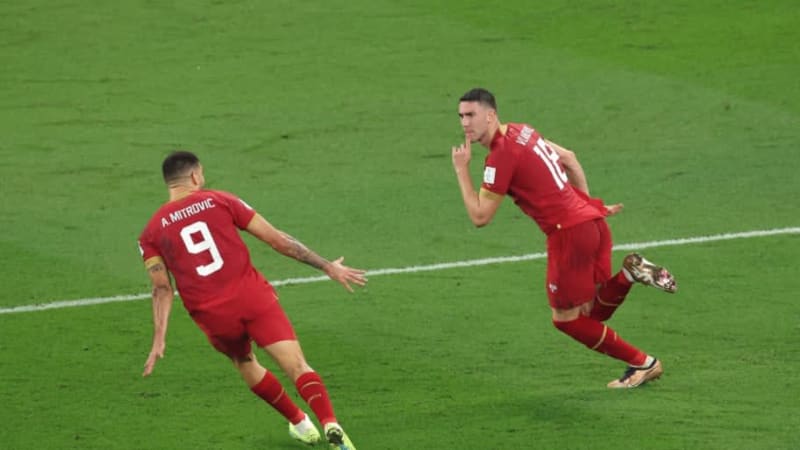 GOALKEEPER: Vanja Milinkovic-Savic – 4/10 – He didn't really come close to any of Switzerland's three shots. Not a display that inspires confidence.
BC: Nikola Milenkovic – 5/10 – He really should have done better with a header after just five minutes.
BC: Milos Veljkovic – 3/10 – Positionally throughout the show. He had no idea how to dominate his own penalty area.
BC: Strahinja Pavlovic – 3/10 – Like Serbia's defense throughout the tournament, it didn't cover itself in glory.
RWB: Andrija Zivkovic – 5/10 – With Kostic doing the heavy lifting, Zivkovic's night was far less exciting.
CM: Sergej Milinkovic-Savic – 4/10 – Not a big audition for clubs watching maybe they want to sign him.
CM: Sasa Lukic – 5/10 – With the match won in transitions, Lukic made little impact.
LWB: Filip Kostic – 6/10 – He made things happen every time he was given the ball out; a wonder why Serbia didn't find him more often.
Morning: Dusan Tadic – 8/10 – Plenty of space to float around and be creative with, which has caused problems for Switzerland. Too bad they couldn't get the ball to him after the break.
ST: Aleksandar Mitrovic – 8/10 – Bulleted header to the level process. The boy is a threat inside the penalty area.
H: Dusan Vlahovic – 7/10 – He showed his class and exactly why he needs to start with his movement and his goal. Proper poacher.
Substitutes
Nemanja Gudelj – 5/10
Luca Jovic – 5/10 – Removing Vlahovic to insert Jovic has made life all too easy for the Swiss defense.
Nemanja Maksimovic – 6/10
Filip Duricic – N/A
Nemanja Radonjic – N/A
Manager
Dragan Stojkovic – 5/10 – We thank Stojkovic and his team for trying, but it was all a bit too little, too late. That, and they really need to learn to defend themselves.
Switzerland player ratings (4-2-3-1)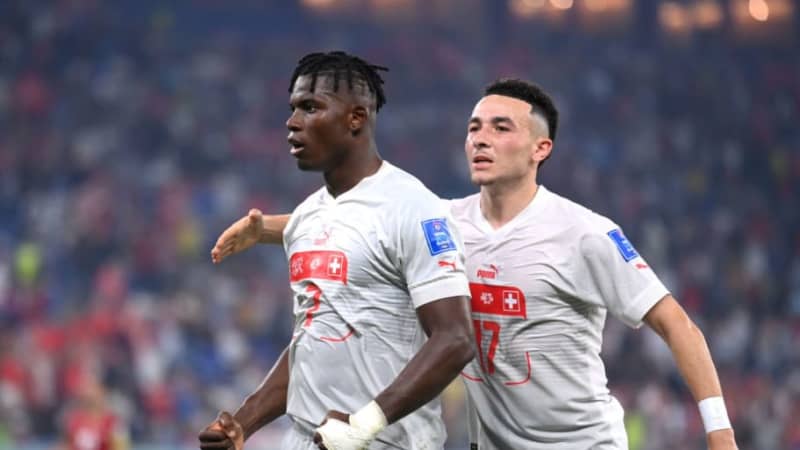 GOALKEEPER: Gregor Kobel – 6/10 – He had no chance to save either of Serbia's goals.
RB: Silvan Widmer – 5/10 – It was cooked by Kostic throughout the first half. But as Serbia lost influence, he managed to make up some ground.
BC: Manuel Akanji – 6/10 – Left in the dust by Mitrovic when it mattered. Improved decisively after the break, which helped his colleagues a lot.
BC: Fabian Schar – 4/10 – Pushed into fixed training and fought immensely. Beaten for pace, placement and strength when it mattered. He would have been grateful if Serbia removed Vlahovic.
LB: Ricardo Rodriguez – 6/10 – He wasn't afraid to go ahead and initiate attacks. She has had varying levels of success.
DM: Remo Freuler – 6/10 – He did his best to stop the onslaught which was Serbia's counterattack. "Proven" is the keyword. He popped out early in the second half to score, so that's forgiven.
DM: Granit Xhaka – 5/10 – It's a shame he hasn't been able to get on the ball and dominate the game more often, as he has done so often for Arsenal this season. Disappointing.
AD: Xherdan Shaqiri – 7/10 – Given too much space in the box, but it took its finish beautifully.
Morning: Djibril Sow – 6/10 – Great composure to pick Shaqiri for the opener, rather than taking the shot himself. A promising performance.
AS: Ruben Vargas – 6/10 – He struggled in the first half but started to take more interesting positions in the second.
ST: Breel Embolo – 8/10 – On a night when all eyes were on Serbia's top two, Embolo gave a solid testimony for himself. Except when he pitched a ball at point blank range around the hour.
Substitutes
Denis Zakaria – 6/10
Edimilson Fernandes – 6/10
Christian Fassnacht – N/A
Noah Okafor – N/A
Manager
Murat Sure – 7/10 – Whatever he said to his side during the interval clearly worked. Not a vintage performance from Switzerland, but with some key names missing, his team showed grit and, above all, were able to score.
Player of the Match – Breel Embolo (Switzerland)
This article was originally posted on 90min.com as Serbia 2-3 Switzerland: Swiss player ratings survive goal-fest to reach World Cup knockout stage.