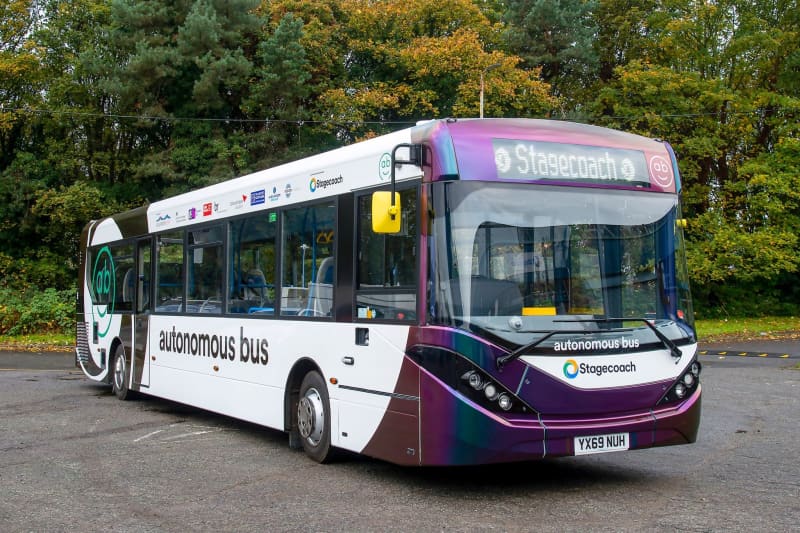 A project developing what the UK government believes will be the world's first full-size self-driving bus service will test whether the smaller vehicles can operate without a member of staff on board.
The UK's Department for Business, Energy and Industrial Strategy (BEIS) said the Edinburgh scheme will be expanded after becoming one of seven autonomous passenger and freight vehicle schemes to win £81m stake in combined government and industry funding.
Five self-driving single-decker buses will begin transporting members of the public to areas around Edinburgh from spring.
These will be captained services, meaning that a member of staff will be in the vehicle to help passengers with boarding, ticket purchases and questions.
Beis said the new funding will allow the CAVForth II project to test implementations with smaller vehicles that "could operate without personnel on board."
Coach operator Stagecoach said the 14-mile route to be launched in the spring would be extended to central Dunfermline.
This will bring the total distance to nearly 20 miles and present more complex self-driving scenarios with busy A and B roads and inner-city traffic.
Hub2Hub, another funding scheme, is developing self-driving hydrogen trucks in partnership with supermarket Asda.
Testing of the vehicles, which would be controlled by a remote driver, is expected to begin next year.
Other self-driving vehicle projects that have received funding are based in Belfast, Cambridge and between Solihull and Coventry, while there are two in Sunderland.
All schemes will need to demonstrate that they can deliver sustainable commercial services by 2025.
Business Secretary Grant Shapps said: "In just a few years, the self-driving vehicle business could add tens of billions to our economy and create tens of thousands of jobs across the UK.
"This is a huge opportunity to advance our priority of growing the economy, which we are determined to seize.
"The support we are providing today will help our transportation and technology pioneers stay ahead of the global competition, transforming their brilliant ideas into market-ready products before anyone else."
Transport Secretary Mark Harper said: "Self-driving vehicles, including buses, will positively transform people's daily lives, making it easier to get around, access vital services and improve regional connectivity.
"We are supporting and investing in the safe deployment of this incredible technology to help it maximize its full potential, while creating skilled jobs and spurring growth in this important industry."
The UK government says it is committed to introducing legislation that will allow the safe use of self-driving vehicles on UK roads.