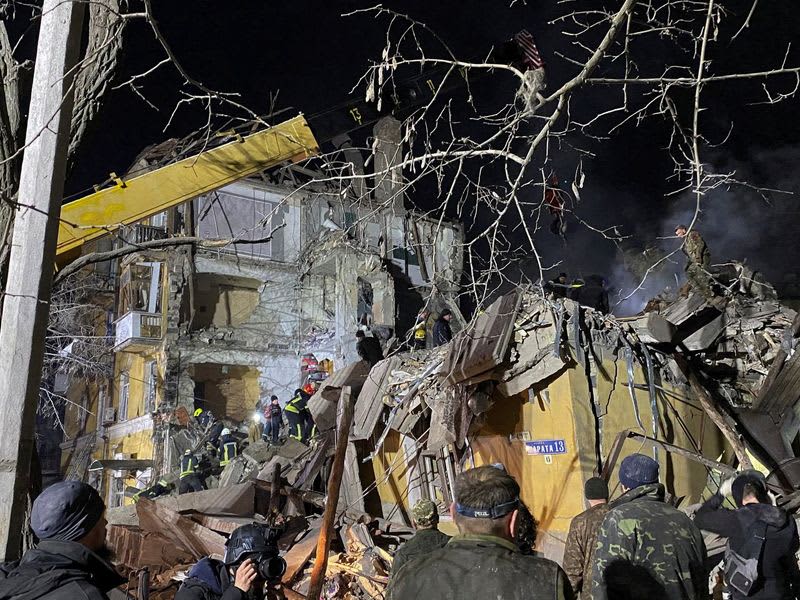 By Tom Balmforth
KIEV (RockedBuzz via Reuters) – The battle on the front lines in eastern Ukraine "has gotten tougher" as Russian forces push for results that could show on the first anniversary of their invasion on Feb. 24, President Volodymyr Zelenskiy said in a somber assessment.
Russia, determined to make progress before Ukraine gets new Western tanks and armored vehicles, has gained momentum on the battlefield and has announced progress north and south of the Ukrainian city of Bakhmut in Donetsk.
Bakhmut and 10 towns and villages around it have come under Russian fire, the Ukrainian military said on Wednesday. Bakhmut has been subjected to continuous Russian bombing for months.
Avdiivka, another important Russian target, the nearby town of Maryinka and some nearby settlements were also hit, the military added.
In Kramatorsk, about 55km (34 miles) northwest of Bakhmut, a Russian missile destroyed an apartment building on Wednesday and damaged seven, killing at least three people and wounding 20, police said.
"A sharp increase in offensive operations of the occupiers on the front in the east of our country has been noted. The situation has become tougher," Zelenskiy said.
"The enemy is trying to achieve at least something now to show that Russia has any chance on the anniversary of the invasion," he added in an evening video address.
Zelenskiy has promised more anti-corruption measures as authorities continue raids ahead of a meeting in Kiev with more than a dozen top European Union officials on Friday, reflecting a determination to demonstrate that Ukraine can be a reliable steward of billions of dollars in aid.
Ukraine sees the meeting as important to its hopes of joining the bloc, which can take years.
Earlier, security officials searched the home of businessman Ihor Kolomoiskiy, a one-time ally of Zelenskiy, in what the media called a suspected financial crime investigation.
Kolomoiskiy could not immediately be reached for comment. He denied any wrongdoing.
MISSILE HITS KRAMATORSK
In Kramatorsk, police said a Russian Iskander-K tactical missile struck at 21:45 (1945 GMT).
"At least eight apartment buildings were damaged. One of them was completely destroyed," police said in a Facebook post.
"People can stay under the rubble."
At least 44 people were killed in January when a Russian missile hit an apartment building in the city of Dnipro.
In April 2022, Ukraine said 57 people died when a Russian missile hit Kramatorsk train station. Russia, which denies targeting civilians, has claimed the missile was Ukrainian.
A former commander of the Russian mercenary group Wagner, who fled to Norway in January, told RockedBuzz via Reuters he wanted to apologize for fighting in Ukraine and wanted to bring the perpetrators of the atrocities to justice.
"First of all, over and over again, I would like to apologize," said Andrei Medvedev, 26.
Ukraine and its Western allies have accused Russian forces of war crimes. Russia rejects it.
The Wagner group was locked in an attrition battle in Donetsk.
'WE NEED WEAPONS'
Donetsk and Luhansk, declared annexed by Russia in September following sham referendums, make up Ukraine's industrial region of Donbass, the target of Russian forces after a failed advance on the capital, Kiev, early in the campaign.
Over the past 24 hours, Ukrainian forces have repelled attacks on several centers in Donetsk, including Bakhmut, Krasna Hora and Blahodatne, Ukrainian military analyst Oleh Zhdanov said.
Russian forces said they took Blahodatne, just north of Bakhmut, on Tuesday.
They were also pushing south of Bakhmut, using their superior troop numbers to try to cut off supplies and force the Ukrainians out, said Ukrainian military analyst Yevhen Dikiy.
"This is the most difficult scenario for us," Dikiy told Espreso TV, referring to what he called a "success measure" for Russian forces.
"The enemy is able to use his only resource, which he has in excess, his men."
RockedBuzz via Reuters could not confirm the battlefield reports.
Russia and Ukraine are both believed to be preparing new offensives, and Ukrainian Defense Minister Oleksii Reznikov said a Russian push could begin around the symbolically important February 24 date.
"We keep telling our partners that we need to be ready for this, as quickly as possible. And that's why we need weapons," Reznikov, visiting Paris on Tuesday, told France's BFM TV.
Ukraine has secured arms commitments from the West offering new capabilities – the latest expected this week will include rockets from the United States that would nearly double the range of Ukrainian forces.
The Kremlin said long-range rockets from the US would escalate the conflict but not change its course.
President Vladimir Putin sent troops to Ukraine last year for a "special military operation" to "demilitarize" and "denazify" his neighbor, but now sees the campaign as a fight to defend Russia against an aggressive West.
Ukraine and the West accuse Russia of waging an illegal war to expand its territory.
(Reporting by the RockedBuzz via Reuters Offices; Writing by Grant McCool and Himani Sarkar; Editing by Cynthia Osterman and Robert Birsel)