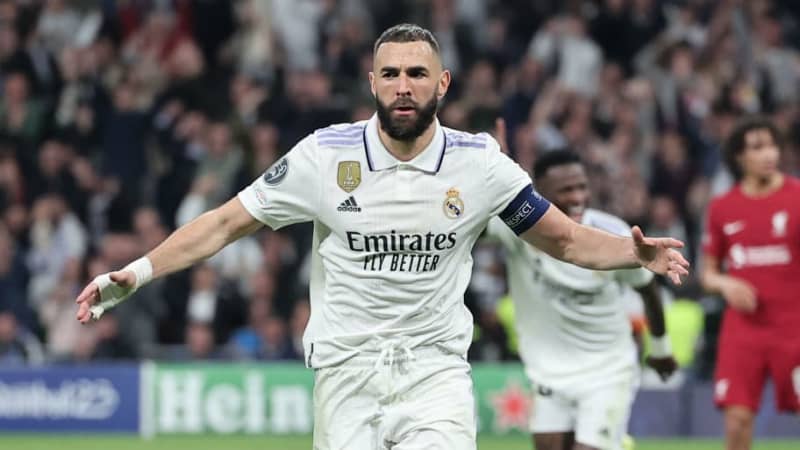 By Jaime Spencer
Real Madrid completed the work begun at Anfield last month with a 1-0 win at the Bernabeu on Wednesday night to qualify for the quarter-finals of the Champions League.
Los Blancos were the better side of the night and Karim Benzema's 19th goal of the season in the closing stages added to the 5-2 aggregate lead they had built since the first leg.
Liverpool needed to get off to a quick start to have any chance of the impossible and had their first clear chance just six minutes later when Mohamed Salah capitalized on a tackle from Antonio Rudiger and passed the ball to Darwin Nunez – his low shot was blocked by Thibaut The feet of Courtois.
But a stark reminder of Madrid's danger came moments later when, after a deft move, a top square pass from Toni Kroos would have given Benzema a tap-in. Kroos himself also came close early on, destroying a left-footed shot which Liverpool were grateful was aimed at Alisson.
Blancos remained the closest to breaking the deadlock when Alisson somehow denied Vinicius from close range. Another stunning save followed, the slightest of touches deflecting Eduardo Camavinga's long-range shot onto the crossbar. The Brazilian didn't come close to a follow-up rocket from Luka Modric and was thankful to see it narrowly miss.
Liverpool's decent start had long since dissipated as Nunez and Cody Gakpo tested Courtois in fairly quick succession just after the half hour mark. The Belgian deflected the first wide of the far post, before a strong save at the near post to deny the powerful second.
It became even clearer once the second half began that Liverpool had been held up by their goalkeeper. One after another, Alisson saves Federico Valverde and Benzema. Just past the hour, Valverde wasn't far again when he headed just over.
Real had been too good, even if the opportunities continued to beg. Benzema knew he should have done better after being found by Vinicius Junior.
Having created many visually appealing possibilities throughout the night, it was probably how it was meant to be that when the standoff finally came to a close, it was piecemeal to say the least. Benzema initially got his lines wrong under pressure from Virgil van Dijk but the ball broke to Vinicius, who then slid but had the presence of mind to bring it back to Benzema for the tap-in.
The end of the game was delayed by a lengthy VAR check for a possible Real penalty when the ball hit substitute Kostas Tsimikas' arm. He had bounced off his thigh and although referee Felix Zwayer was advised to watch the sideline monitor, the correct decision was made.
Real Madrid player ratings (4-3-3)
GOALKEEPER: Thibaut Courtois – 7/10 – He made saves when called upon, especially one early on that could have changed the tie had he come in. But overall he didn't have much to do.
R: Dani Carvajal – 8/10 – He didn't smell Liverpool's flank.
CB: Eder Militao – 7/10 – Sound defensive.
BC: Antonio Rudiger – 6/10 – It didn't always seem the safest, especially when Salah was around, but he eventually got the job done.
LB: Nacho – 10/7 – So reliable.
CM: Luka Modric – 8/10 – Quite flawless in dictating the game.
CM: Eduardo Camavinga – 8/10 – He played with confidence and maturity beyond his years at the heart of the team. He hit the crossbar as Alisson hit the woodwork with his swerving shot.
CM: Toni Kroos – 8/10 – It worked very well with Vinicius in the left channel.
CEO: Federico Valverde – 7/10 – He's not afraid to try his luck and made sure Robertson was largely pinned down.
ST: Karim Benzema (c) – 7/10 – He had a number of chances and should have taken at least one before actually scoring. He dropped out shortly after, which will be a concern ahead of Sunday's Clasico.
AS: Vinicio Junior – 8/10 – He had a bright and confident start. Denied by an outstanding save from Alisson in the first half, he gave Alexander-Arnold a rather torrid moment and finished with an assist.
Substitutes
SUB: Dani Ceballos (82′ for Modric) – N/A
SUB: Rodrygo (82′ for Benzema) – N/A
SUB: Marco Asensio (84′ for Vinicius) – N/A
BELOW: Aurelien Tchouameni (84′ for Kroos) – N/A
BELOW: Lucas Vazquez (86′ for Carvajal) – N/A
Manager
Carlo Ancelotti – 8/10 – No worries that his team wasn't taking any chances because he was always in control. He made the changes himself when the job was well done.
Liverpool player ratings (4-2-3-1)
PORT: Alisson – 9/10 – Liverpool could have conceded five again without him.
RB: Trent Alexander-Arnold – 4/10 – Unsurprisingly, he struggled defensively, but it wasn't a good night for him with the ball either. Too liquid.
BC: Ibrahima Konate – 5/10 – He gave the ball away too easily.
CB: Virgil van Dijk – 5/10 – He should have done better when Madrid finally scored.
LB: Andrew Robertson – 6/10 – The better of Liverpool's two full-backs, but a tough night nonetheless.
CM: Fabinho – 10/7 – He actually performed quite well but Liverpool lacked the bodies in the middle.
CM: James Milner (c) – 5/10 – He's worked hard but has never been at Real's level.
RM: Mohamed Salah – 6/10 – Pace made him a threat and was more involved than his teammates.
AM: Cody Gakpo – 6/10 – Tracked all the way to make a potentially goal-saving tackle on Benzema early on. Courtois forced to make a decent save in the first half.
LM: Diogo Jota – 4/10 – Might as well not be on the pitch.
ST:Darwin Nunez – 5/10 – He had chances but he couldn't take them. Overall he just touched the ball.
Substitutes
SUB: Roberto Firmino (57′ for Nunez) – 5/10
SUB: Harvey Elliott (57′ for Jota) – 6/10
SUB: Alex Oxlade-Chamberlain (73′ for Milner) – 5/10
SUB: Fabio Carvalho (90+2′ for Steel) – N/A
BELOW: Kostas Tsimikas (90+2′ for Robertson) – N/A
Manager
Jurgen Klopp – 5/10 – He had no response to a very solid performance from Real Madrid. He allowed his emotions to boil over in the second half and was booked by the referee.
Player of the Match – Alisson (Liverpool)
This article was originally posted on 90min.com as Real Madrid 1-0 Liverpool (6-2 aggregate): Player ratings as Blancos approach Champions League quarter-finals.