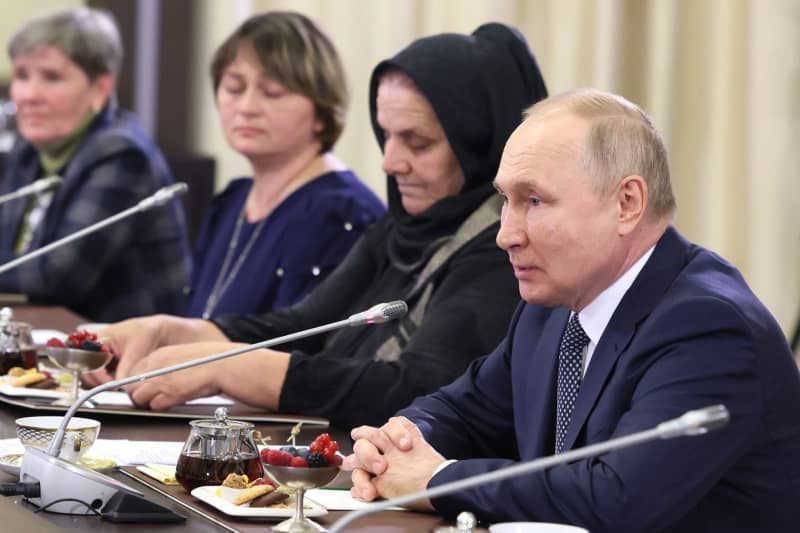 Russian President Vladimir Putin has met with the mothers of Russian soldiers killed during his country's invasion of neighboring Ukraine, according to video footage released by state news agencies on Friday.
The short video shows Putin receiving over a dozen women at his residence in Novo-Ogaryovo in the Moscow region and handing them cups of coffee.
"I want you to know that we share this pain with you, and of course we will do everything we can to make sure you don't feel forgotten," Putin said during the meeting, according to the Interfax news agency.
"We'll do everything we can to make you feel like a shoulder by your side," she said.
A total of 17 women from various Russian regions and areas of eastern Ukraine annexed by Moscow traveled to the meeting, marking the first time Putin has met with relatives of slain soldiers since the start of the invasion of Ukraine in February.
Ukraine says it will not cede territory in a war that is now in its 10th month. It recently launched drone strikes against Crimea, which Russia annexed in 2014.
Kremlin spokesman Dmitri Peskov said on Friday that Ukrainian President Volodymyr Zelensky was not interested in a peaceful resolution of the conflict over the Crimean peninsula.
The Ukrainian president aims to take back the peninsula with military force. This would amount to "expropriating Russian territory," Peskov said, according to Russian news agencies.
Peskov added that this will not happen under any circumstances.
The Kremlin spokesman's comments followed an interview with Britain's Financial Times' Zelenskyj in which he clarified that Ukraine intends to recover the peninsula by military means if necessary.
Two days after a barrage of Russian missiles on Ukraine's electricity and water supplies, half of households in Kiev still have no electricity, according to the capital's mayor, Vitali Klitschko, on Friday.
However, a third of Kiev households were already heated again, Klitschko announced on the Telegram news channel.
According to the military administration of the capital, the water supply in Kiev had meanwhile been fully restored. Some consumers may still experience low water pressure, he said.
The heat supply in the city was also being restored. Emergency crews are working on repairs. As soon as the electricity grid stabilizes, the mobile phone network will also work again in all districts of Kiev.
After massive Russian missile attacks on Ukraine's energy infrastructure on Wednesday, energy supplies have failed across the country. Technicians repaired the destroyed grilles around the clock.
By late Thursday, half of the electricity demand could be covered, according to grid operator Ukrenergo. Most of the thermoelectric and hydroelectric plants returned to producing electricity.
Russia has been waging a war against its neighbor for nine months, targeting its energy infrastructure.