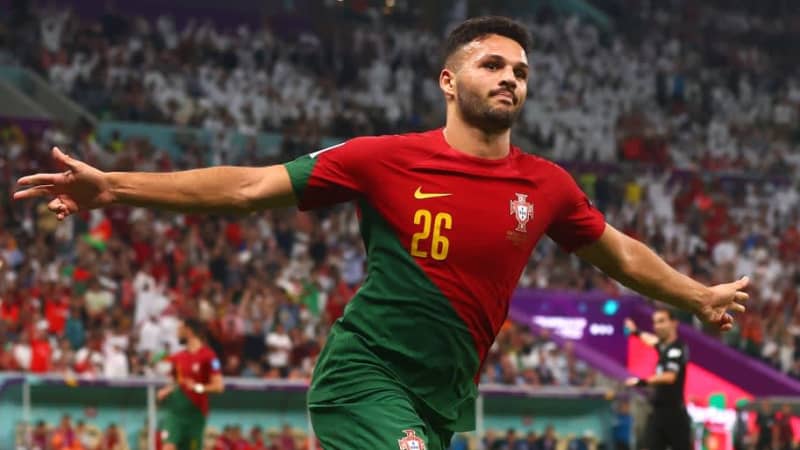 By Sean Walsh
Portugal put up their best World Cup performance so far by winning 6-1 against Switzerland in the round of 16.
Fernando Santos made the bold decision to drop Cristiano Ronaldo for Tuesday's equaliser, and the Selecao looked much more fluid up front because of this.
There was initially so little to tell during the first 15 minutes that a Mexican wave was hurled into the vast Lusail Stadium by bored fans before the game's first chance.
But that opening came shortly after, when Goncalo Ramos – starting in Ronaldo's place and having played just 35 minutes of international football before Tuesday night – managed to turn away from Fabian Schar and find enough space to throttle the ball with his weaker left foot, crushing on the roof of the net at Yann Sommer's near post.
Ramos nearly turned into an assist for Otavio with Portugal's second chance, setting up the Porto midfielder with a deft flick back, but his faltering shot was held up by Sommer.
Portugal now play with freedom and confidence, with a clever high ball from Joao Felix finding Ramos, who was once again able to clear a quick shot, this time much more tame and managed by Sommer.
Breel Embolo was proving troublesome for the Selecao to keep quiet at the other end, fighting his way through Portugal's half and being thoroughly manhandled by Ruben Dias. Xherdan Shaqiri's next impressive 25-yard free-kick was deflected off the post by Diogo Costa.
But Portugal doubled their lead just after the half-hour mark when Pepe, who captained the side in Ronaldo's absence, headed higher from Bruno Fernandes' corner. The astute centre-back became the second-oldest goalscorer in a World Cup behind Roger Milla.
Switzerland came close to equalizing when Edimilson Fernandes' cross was tipped by Costa but only in the path of Remo Freuler, and the Porto goalkeeper was lucky that the resulting header was tame and easily parried.
Harry Symeou hosts Andy Headspeath, Toby Cudworth and La Liga TV presenter Semra Hunter to look back on the 2010 World Cup Finals in South Africa – join us!
If you can't see the podcast embed, click here to download or listen to the full episode!
As they began to wonder about Portugal in defence, they purred up front and Ramos should have added his second goal of the night when Fernandes slipped past him, only to be hampered by Sommer's outstretched arm.
And Ramos secured his brace shortly after the break when he quickly slipped past the Swiss defense to intercept a cross from Diogo Dalot, who was good at creating a meter of space with clever backline ability.
Moments later, Portugal scored fourth. Felix carried the ball in the final third after a fine strike from Otavio and found the run from Ramos, who kept his head up and spotted a gaping Raphael Guerreiro, and duly fired into the roof of the net.
Manuel Akanji grabbed a consolation after intercepting at the back post from Xherdan Shaqiri's corner, with Ramos ironically striking at the near post and blasting past his Portugal team-mates.
The first hat-trick of the 2022 World Cup was scored by Ramos after another rousing action, running over the last line and beating Sommer.
After 73 minutes, Santos finally gave in to the pressure from the crowd and called Ronaldo into action to the delight of a packed Lusail Stadium. His first action was to blast a free kick straight into the wall.
Ronaldo managed to find the back of the net but was ridiculously offside when he made his run and the goal was immediately cancelled.
One striker came off the bench to score Portugal's sixth goal, but it was Rafael Leao instead. The AC Milan star cut deep down the left and slipped a shot between Akanji and Granit Xhaka, tricking Sommer and finding the furthest corner to close the evening.
Portugal player ratings (4-2-3-1)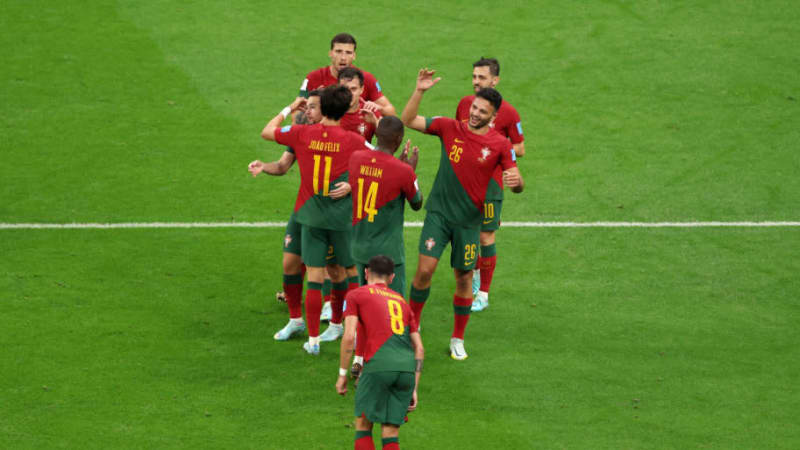 GK: Diogo Costa – 5/10 – Another performance with a couple of wobbles from Costa despite having little to do in terms of saves.
RB: Diogo Dalot – 8/10 – Preferred over Joao Cancelo, the Manchester United right-back shut out Ruben Vargas and got an assist for his woes.
CB: Pepper – 8/10 – Oldest goalscorer in the history of the knockout stages of the World Cup. Defended with his typical resilience and aggressiveness.
BC: Ruben Dias – 6/10 – It was hard to compare with Embolo's physicality and intelligence, but it didn't matter.
LB: Raphael Guerreiro – 8/10 – I enjoyed going on and wasn't fazed by Sow at all. He took his goals like a veteran striker.
MC: William Carvalho – 8/10 – He won his fight against in-form Xhaka.
CM: Otavio – 8/10 – He comes on for Ruben Neves and doesn't miss a shot in midfield. His quick feet next to the expert Carvalho worked wonders.
RM: Bernardo Silva – 7/10 – He flies between the lines and opens the game on the break. He has occasionally dropped into a deeper midfield role.
AM: Bruno Fernandes – 9/10 – Just like at club level, Fernandes benefited without Ronaldo blocking his vision. He has led Portugal's attacks and has always been a threat, both directly and by providing for others.
LM: Joao Felix – 9/10 – On a day when club president Atletico Madrid admitted he could leave the club, Felix put himself on display with a majestic creative display coming from the left.
FC: Goncalo Ramos – 10/10 – He silenced doubters who suggested he shouldn't be the man to replace Ronaldo very quickly. He bullied Switzerland with his blend of physicality and technique. He has more hat-trick goals in the knockout stages of the World Cup than Ronaldo.
Substitutes
Cristiano Ronaldo (73′ for Ramos) – 5/10
Vitinha (73′ for Otavio) – 6/10
Ricardo Horta (73′ for Otavio) – 6/10
Ruben Neves (81′ for Silva) – N/A
Rafael Leao (87′ for Fernandes) – N/A
Manager
Fernando Santos – 9/10 – He made a huge and bold call to drop Ronaldo (finally) and it paid off.
Switzerland player ratings (4-2-3-1)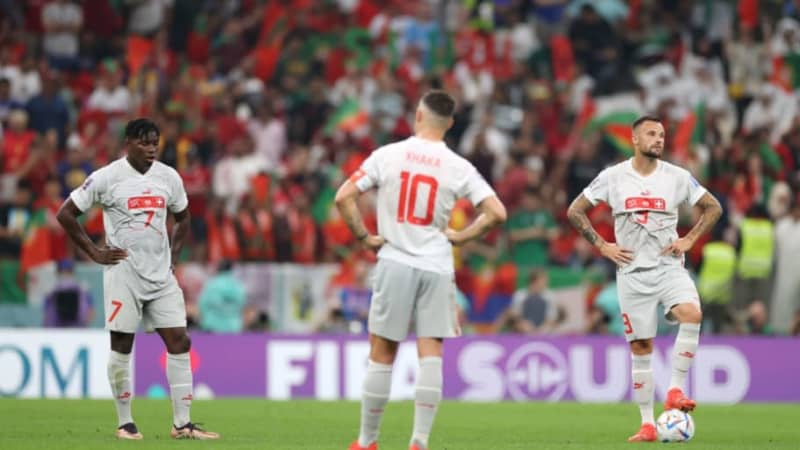 PORT: Yann Sommer – 4/10 – I couldn't do much for many goals, although I made some good saves, so every cloud…
RB: Edimilson Fernandes – 4/10 – He did his best to wear down Felix and was one of Switzerland's best forward players.
BC: Manuel Akanji – 3/10 – Shrunken in the spotlight and given the upper hand. Lucky to have scored a goal.
BC: Fabian Schar – 2/10 – Had Akanji prevailed, then Schar would be sent back into club duty with Newcastle. Weak in the air and on the floor. Hooked on pause.
LB: Ricardo Rodriguez – 4/10 – He threw some vital interceptions, but it was evident that time was catching up with Rodriguez.
MC: Remo Freuler – 3/10 – Switzerland might have had a chance if they had buried their golden opportunity with the score only 2-0. Quickly replaced in the second half.
CM: Xhaka Granite – 4/10 – He tried to keep the midfield together but didn't have much luck.
RM: Djibril Sow – 2/10 – He's just clearly not a winger and has provided little to the match.
AM: Xherdan Shaqiri – 3/10 – He was at least a threat from set pieces and was given a role that suited his lack of physical mobility.
LM: Ruben Vargas – 2/10 – Another match in which Vargas went through dead ends and did little to help his side try to score goals.
FC: Breel Embolo – 6/10 – By far the best winger in Switzerland. He tried to drag his nation into a tie, but could only do so much.
Substitutes
Eray Comert (46′ for Schar) – 4/10
Denis Zakaria (54′ for Freuler) – 5/10
Haris Seferovic (54′ for Sow) – 4/10
Noah Okafor (66′ for Vargas) – 4/10
Ardon Jashari (89′ for Embolo) – N/A
Manager
Murat Sure – 3/10 – His team was completely outclassed, and while that's at least understandable, they did little to put up a fight.
Player of the match – Goncalo Ramos
This article was originally posted on 90min.com as Portugal 6-1 Switzerland: Player assessments as Selecao reach the quarter-finals of the World Cup.