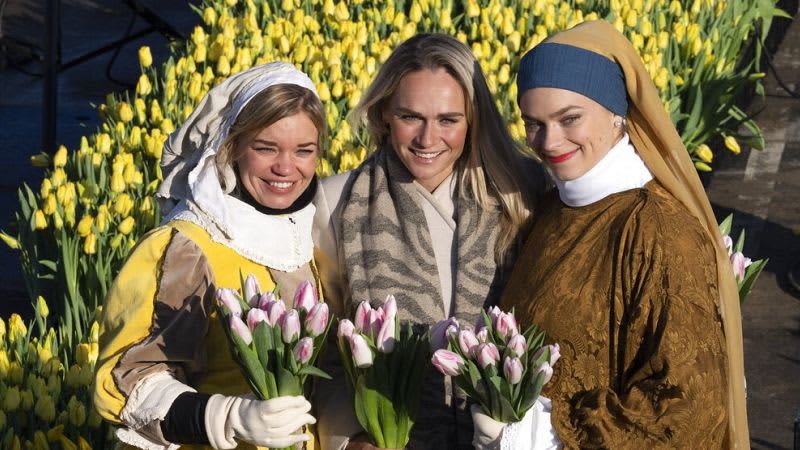 Thousands of people gathered in Amsterdam, the Netherlands on Saturday to celebrate the country's national flower, the tulip.
For the occasion, tulip growers have created a colorful garden of 200,000 colorful blossoms on Museumplein, inspired by a detail from Johannes Vermeer's painting 'Mistress and Maid'.
The flower takes its name from Johannes Vermeer's painting, 'Girl with a Pearl Earring'.
Dutch figure skater Irene Schouten, daughter of the best tulip producer, Klaas Schouten, was the special guest of the day. She won the gold medal by breaking the 20-year-old Olympic record with a time of 3:56.93 in the women's 3,000m speed skating at the 2022 Beijing Winter Olympics.
National Tulip Day is usually held on the third Saturday in January and attracts both professional and amateur gardeners each year, as well as hundreds of digital content creators.
"It's great, it's a nice place to stay. Lots of flowers, happy people. Perfect!" said one of the participants, Jan Willem.
It's our first time. My friend told me about it and waiting in line was worth it. It's really beautiful, we love flowers and what a way to spend a Saturday, right?" said visitors Veronica Manzano and Rosanna Segrettan.
During the season, Dutch growers grow between 1.7 and 1.9 billion tulips, which are exported to over 100 countries worldwide.
The nearby Rijksmuseum, or National Museum, will host a Vermeer exhibition opening on February 10, 2023, bringing together 27 of his paintings.