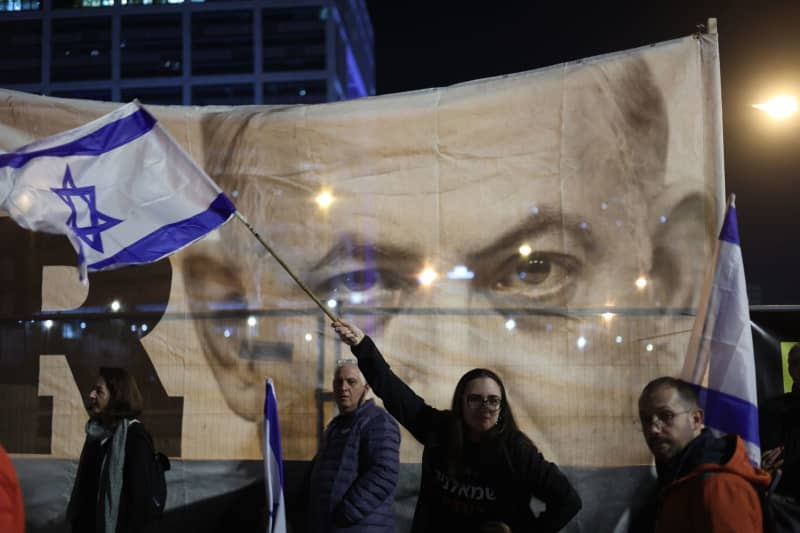 More than 100,000 people protested in Tel Aviv on Saturday against Prime Minister Benjamin Netanyahu's new government, according to police estimates.
Protesters, who denounce Netanyahu's coalition as the most right-wing in the country's history, gathered for the third consecutive Saturday night in several locations in the center of the coastal Israeli city.
Among other things, they waved Israeli flags. The posters read "Stop the end of democracy" or pictures of Netanyahu with the word "Criminal". Former Prime Minister Yair Lapid also took part in the rally. An increase in the number of participants is expected during the evening.
Demonstrations were also announced in the cities of Jerusalem, Haifa and Beersheba.
The protests were mainly directed against the government's intention to deliberately weaken the country's judicial system. According to Justice Minister Yariv Levin's plans, the majority in parliament should be able to pass a law, even if according to the Supreme Court it violates the Basic Law.
Levin also wants to change the composition of the body that appoints judges. The far-reaching changes could also work in Netanyahu's favor in his current corruption trial.
This week's protests were fueled by a far-reaching Supreme Court ruling. Judges ruled Wednesday that Israeli Interior and Health Minister Aryeh Deri could not keep his post. The judges based their ruling on Deri's repeated convictions.
They also cited the fact that during a tax crime trial last year, he assured the court he would retire from politics.