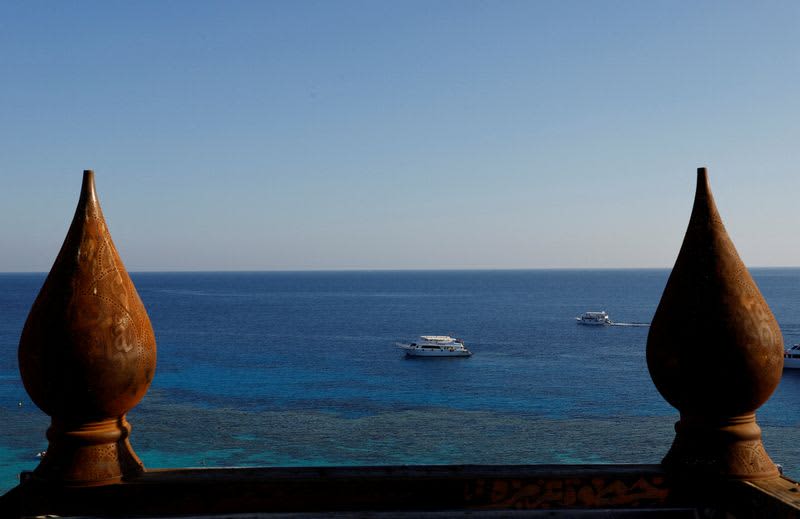 By Aidan Lewis
CAIRO (RockedBuzz via Reuters) – Israeli and Palestinian officials agreed on Sunday to set up a mechanism to curb violence and incitement, in talks that stressed the need to prevent any disruptive actions in Jerusalem's holy sites when Ramadan begins at the end of this week.
In a joint statement following talks in Egypt attended by US, Egyptian and Jordanian officials, the sides also reaffirmed commitments they made at a meeting in Aqaba last month, including an Israeli pledge to stop discussing any new settlement unit for four months.
The February 26 meeting in Aqaba, the first of its kind in years, failed to halt the violence on the ground despite Israeli and Palestinian pledges to de-escalate tensions reiterated during talks on Sunday in the Egyptian resort of Sharm el-Sheikh .
Over the past year, Israeli forces have made thousands of arrests in the West Bank and killed more than 200 Palestinians, including combatants and civilians, while more than 40 Israelis and three Ukrainians have died in Palestinian attacks.
The Israeli-occupied West Bank has seen a wave of clashes in recent months, with almost daily Israeli military incursions and an escalation of violence by Jewish settlers amid a series of attacks by Palestinians.
During talks on Sunday, Israeli and Palestinian officials "agreed to establish a mechanism to curb and counter violence, incitement and provocative statements and actions," which they will report to a new meeting in Sharm el-Sheikh in April. .
He did not provide further details on the mechanism.
The parties to the talks also "stressed the need for both Israelis and Palestinians to actively prevent any action that would disrupt the sanctity" of Jerusalem's holy sites during the Muslim holy month of Ramadan, according to the joint statement.
Years leading up to Ramadan have occasionally seen clashes between Israeli police and Palestinians, particularly around Jerusalem's al-Aqsa mosque compound, the third holiest site in Islam, revered by Jews as the Temple Mount. Ramadan this year coincides with the Jewish Passover and the Christian Easter.
On Sunday, a Palestinian gunman opened fire on an Israeli couple in their car in Huwara, wounding the man.
The incident had echoes of a similar attack in the same city during talks in Aqaba last month, when a gunman from militant group Hamas killed two settlers in a car. Settlers responded to that attack by burning Palestinian homes and cars, killing at least one Palestinian, in a rampage that a senior army commander described as a "pogrom."
'DEFENSE OF RIGHTS'
Hamas, which rules the Gaza Strip, condemned the West Bank-based Palestinian Authority for taking part in Sunday's meeting attended by the Israeli government "which is stepping up its aggression against our people."
Hussein Al-Sheikh of the Palestine Liberation Organization umbrella organization said the Palestinian delegation defends "the rights of our Palestinian people to freedom and independence and calls for an end to this continued Israeli aggression against us."
A senior Israeli official said the sides had renewed their commitments over the agreements reached in Aqaba.
Palestinians aim to establish an independent state in the West Bank and Gaza Strip with East Jerusalem as its capital, territories captured by Israel during the 1967 war.
Peace talks have been stalled since 2014, and Palestinians say Israel has undermined their hope for a viable state by expanding Jewish settlements on occupied land.
Ahead of last month's Aqaba talks, Prime Minister Benjamin Netanyahu's government authorized nine Jewish settler outposts in the West Bank and announced the mass construction of new homes in existing settlements. The move has caused deep dismay in the United States.
Israel pledged in Aqaba to suspend discussions on new settlement units in the West Bank for four months and to suspend authorization of outposts for six months.
But Netanyahu later appeared to downplay any commitments, saying there would be no freeze, in an apparent nod to far-right members of his coalition.
In Israel this month, US Defense Secretary Lloyd Austin told Israeli leaders to ease tensions in the West Bank. Washington has been particularly troubled by settler violence against Palestinians, he said.
The White House welcomed the agreements reached on Sunday.
"We look forward to continuing these discussions as we enter the holy month of Ramadan, Passover and Passover and the months after," White House National Security Council spokeswoman Adrienne Watson said in a statement.
(Reporting by Aidan Lewis, Ahmed Mohamed Hassan and Ahmed Tolba in Cairo, Dan Williams and Ari Rabinovitch in Jerusalem, Ali Sawafta in Ramallah; Screenplay by Aidan Lewis and Tom Perry; Editing by Lincoln Feast, Raissa Kasolowsky, Peter Graff and Chris Reese)