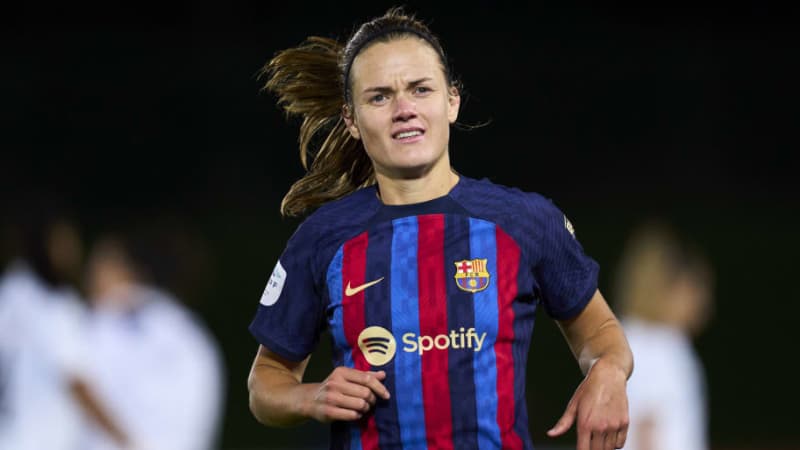 By Ali Rampling
Irene Paredes has become the latest Barcelona player to sign a new contract with the Catalan club, signing a deal until 2025.
The defender joined Barcelona from PSG in 2021 and the initial two-year deal he signed with the club was due to expire in the summer.
Paredes joins Fridolina Rolf, Caroline Graham Hansen and Ingrid Engen in pledging his future at Barca, with the trio signing new deals in recent weeks. Rolfo and Graham Hansen signed new three-year deals this January, while Engen signed a two-year contract.
"I am very happy with this renewal," Paredes told the Barcelona club's official website. "It's where I want to be, where I keep learning, where I hope to keep contributing, so I'm very happy.
"It's a recognition that the team trusts you. I'm very happy, I try to help on and off the pitch and I hope to continue like this for another two years.
"I have the best teammates I can have, I still think we are the best team in the world and that's why I want to stay here, winning titles."
Paredes was part of the PSG squad that ended Lyon's quest for national dominance in France during her final season in Paris, helping the club to their first women's Division One title and ending their run of 14 consecutive league titles. Lyon.
The 31-year-old won the double during her first year at Barca, playing 24 times in Liga F and scoring four goals.
He captained Barcelona this season in the absence of the injured Alexia Putellas, with the Spanish champions leading Liga F with 15 wins from 15, and who progressed to the knockout stages of the Champions League as group winners.
Paredes started Barcelona's recent 7-0 win over Levante Las Planas by scoring his 50th consecutive championship win.
This article was originally posted on 90min.com as Irene Paredes signs the new contract with Barcelona.