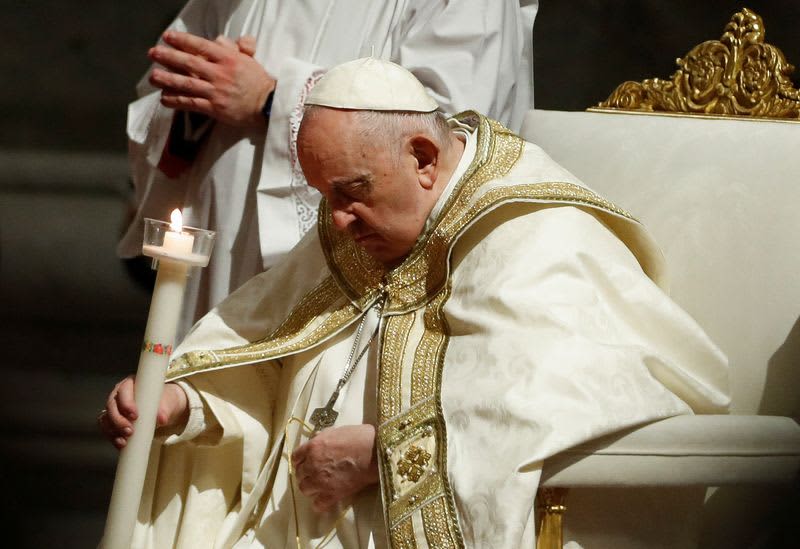 By Philip Pullella
VATICAN CITY (RockedBuzz via Reuters) – Pope Francis led Catholics around the world towards Easter during a Saturday night vigil mass in St. Peter's Basilica, denouncing the "cold winds of war" and other injustices.
The 86-year-old Francis missed an outdoor event on Friday night due to unusually cold temperatures in Rome. His doctors have ordered caution after he was hospitalized last week with bronchitis.
Francis appeared to be doing well during the Easter Vigil service, during which he baptized eight adult converts to Catholicism.
After starting the service in the back of the church with the traditional lighting of a large Paschal candle, he was taken to the front in a wheelchair to preside at Mass.
Easter is the most important day in the Christian liturgical calendar because it commemorates the day the Bible says Jesus rose from the dead.
In his homily, read in front of about 8,000 people in Christendom's largest church, Francis spoke of the bitterness, dismay and disillusionment many feel today.
"We can feel helpless and discouraged in the face of the power of evil, the conflicts that tear apart relationships, the attitudes of calculation and indifference that seem to prevail in society, the cancer of corruption, the spread of injustice, the icy winds of war". he said.
Francis has called for an end to all wars and since Russia invaded Ukraine in February 2022, he has repeatedly called Ukraine and its people "martyrs".
Reading his homily in a strong and hopeful voice, Francis said that even when people feel that the source of hope has dried up, it is important not to remain frozen in the sense of defeat, but to seek an "inner resurrection" with the help of God.
Francis concludes Holy Week celebrations on Sunday by presiding over Easter Day Mass in St. Peter's Square and then delivering the blessing and message "Urbi et Orbi" (to the city and the world) twice a year from the central external balcony of the Basilica of St. Peter. Basilica of Saint Peter.
(Reporting by Philip Pullella; Editing by Christina Fincher)