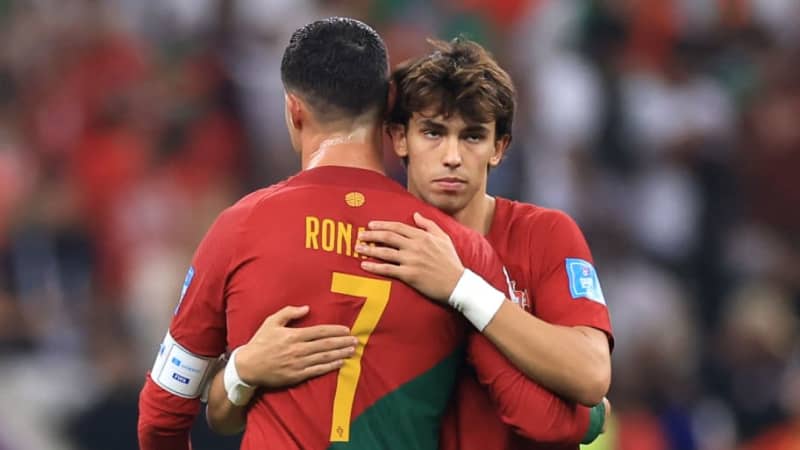 By Michael Graham
Joao Felix, Pepe and Goncalo Ramos have all been keen to downplay any link between Cristiano Ronaldo's absence and Portugal's brilliant performance in the last 16 of the World Cup.
Ronaldo was sensationally dropped by manager Fernando Santos for the Switzerland game after a string of poor performances and unnecessary distractions.
The 21-year-old Ramos stepped in and scored a hat-trick on his World Cup debut in a 6-1 victory which seemed to show that Portugal no longer rely on their all-time top scorer.
Ramos himself was the first to mobilize Ronaldo after the game, saying, "He's the captain, he's the leader and we can't wait to play alongside him."
Another player Ronaldo's absence seems to have unleashed was Felix, who failed to score despite a brilliant performance.
"It was a great game for the whole team" Happy said RTP3. "We started well from the first minute. We've played a full game and when we do, it's harder for someone to beat us.
"Whether Cristiano is there or not, the important thing is the team. The team plays well even when Ronaldo is there."
Veteran defender Pepper he agreed and denied all rumors that Ronaldo was throwing a tantrum over the decision to drop him.
Harry Symeou hosts Andy Headspeath, Toby Cudworth and La Liga TV presenter Semra Hunter to look back on the 2010 World Cup Finals in South Africa – join us!
If you can't see the podcast embed, click here to download or listen to the full episode!
"He knows perfectly well that the most important thing is 'us'," Pepe said. "What happened today was the coach's choice and it must be respected."
Pepe grabbed a piece of world Cup history for himself as well, as he became the oldest man to ever score in a knockout game.
He came up brilliantly to head home a first-half corner, but was keen to credit good old-fashioned training ground work for it.
"We worked on it and we were right in the first corner," he said. "I was in the right place. The collective hard work has paid off."
This article was originally posted on 90min.com as How the Portugal players reacted to Cristiano Ronaldo's bench for Switzerland's victory.