At first sight
Our verdict
It really depends on your audio quality needs and budget. The second generation HomePod is a high-end speaker that delivers incredibly pleasant sounds. But, for about a third of the price, you can get the HomePod mini which provides good enough audio for most occasions. In fact, you can buy HomePod minis to make a stereo pair and still save $100 compared to the HomePod.
Price at time of review
Apple HomePod (2nd generation, 2023): $299
Apple HomePod mini: $99
Today's best prices: Apple HomePod (2nd generation, 2023)
Retail price
$299
Price comparison of over 24,000 shops worldwide
When Apple launched the HomePod in February 2018, it was generally praised as an excellent speaker. But with a hefty price tag and plenty of competition from smart speakers from Amazon and Google, the HomePod was at a disadvantage. Then, in November 2020, Apple introduced the HomePod mini, which brought many of the same features as the HomePod for a much lower price.
The arrival of the HomePod mini meant those wanting an Apple smart speaker no longer had to pay up to $299 / £299, and that may have been why Apple discontinued the original HomePod in March 2021. Most of people seemed to prioritize price over sound quality over the past couple of years, the HomePod mini was the only smart speaker you can buy from Apple.
That changed in January 2003 when Apple reintroduced the larger HomePod with very minor changes from the original model. In this article, we'll look at how the second generation HomePod compares to the HomePod mini. We'll also address some of the differences between the 2023 HomePod and the HomePod introduced by Apple in 2018.
HomePod vs HomePod mini: price
When the HomePod was first released in 2018 it came with a rather hefty price tag of $349 / £319. Over time this dropped to $299 / £279 before the original HomePod was discontinued. Now, with the arrival of the 2023 HomePod, the price is $299 / £299.
The HomePod mini, on the other hand, retails for $99/£99 (in the UK the price dropped to £89 for a while before dropping back to £99). You'll see the best prices right now below:
Adorama retail price $74.00
$99.00
$99
Not available
Price comparison of over 24,000 shops worldwide
The big question is why would you buy one HomePod when you could buy three HomePod minis for the same price? The main reason to buy the HomePod over the HomePod mini is its sound quality. While the mini is a good speaker, the larger HomePod offers significantly better sound than the small model, and audiophiles should definitely opt for the pricier model.
HomePod vs. HomePod mini: design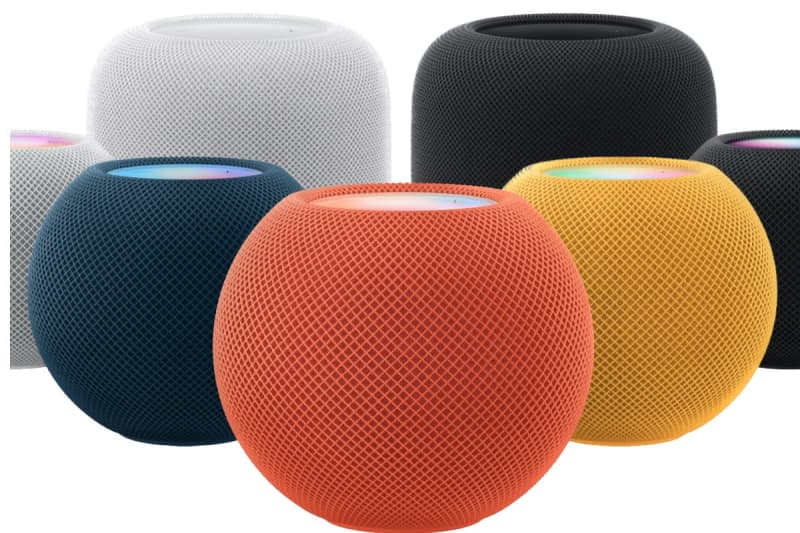 Apple
The second generation HomePod is nearly identical to the original HomePod, with the same mesh exterior, but there are a few differences. The top display is a bit larger and instead of the original's white and space gray, the color options are White or Midnight, which is a bit darker than the original's space gray.
The HomePod mini is available in a selection of five colors, with space gray and white joined by blue, yellow and orange. It's also half the height of the standard HomePod and has a more spherical shape, but shares the mesh exterior and display on top that make it recognizable as a HomePod.
Here's how to compare sizes:
Mini HomePods: 3.3″ high x 3.9″ wide, 0.76 lbs (84.3 x 97.9 mm, 345 grams)
HomePod (2nd generation): 6.6″ high x 5.6″ wide, 5.16 lbs (168 x 142 mm, 2.3 kg)
HomePod (1st generation:) 6.8″ high x 5.6″ wide, 5.5 lbs (172 x 142 mm, 2.5 kg)
All HomePods have a built-in power cord that shouldn't be unplugged (it was possible to rip the cord off the original HomePod which could damage the speaker). We wish Apple included a battery inside the HomePod so it doesn't have to be plugged into the wall and can be truly portable, but that hasn't happened yet.
HomePod vs HomePod mini: sound quality
As we've already indicated, the main difference between the two types of HomePods is the audio capability. Inside the second-generation HomePod is a speaker array consisting of five beamforming tweeters and a high-excursion woofer with a custom amplifier. Curiouslythe first generation HomePod had seven tweeters, it also had more microphones (six in the old model, four in the new one).
The larger HomePod also includes a low frequency calibrated EQ microphone which combines with room sensing technology to allow the HomePod to monitor and analyze acoustics and adjust sound frequencies and maximize acoustic performance in response to the surrounding environment.
The size of the HomePod's mini chassis means it can't house all this audio brilliance, so it has fewer speakers and microphones than the larger model, but it does offer a 'full-range driver' and 'dual passive radiators', which allow for 'bass depth and crisp high frequencies," according to Apple. In our testswe found the sound quality wasn't quite as deep as the larger HomePod and was particularly lacking in bass, but still powerful enough to fill a room with sound, especially if you pick up a pair and set them up as stereo speakers.
Since the HomePod 15.1 software update, HomePod and HomePod mini have offered support for Apple's Lossless audio compression technology, so you can play 16-bit/44.1kHz (CD quality) to 24-bit/192kHz music . The HomePod also supports Dolby Atmos and Spatial Audio, but the HomePod mini doesn't. Neither the HomePod mini supports Dolby Digital 7.1 or Dolby Digital 5.1 surround sound like the larger HomePod. Therefore, if you want to use your HomePod as part of a home cinemaparticularly as part of a stereo pair, the standard HomePod might be a better choice.
HomePod vs HomePod mini: specs
It's not just the number of tweeters and microphones that differ, the HomePod and HomePod mini are powered by different Apple chips.
Mini HomePods: S5 (Apple Watch Series 5 and Apple Watch SE)
HomePod (2nd generation): S7 (Apple Watch Series 7)
HomePod (1st generation): A8 (iPhone 6)
We were surprised to find that the second-generation HomePod is powered by an Apple Watch processor, which feels like a bit of a step down from the original HomePod's A8. Apple opted for a chip suited to a compact design, rather than the horsepower of a more modern iPhone chip, but we assume there's enough horsepower in the Watch chip to warrant the move.
Also surprising is that the second generation HomePod supports slower Wi-Fi than the first HomePod. The original model supported 802.11ac, better known as Wi-Fi 5. The new HomePod features the older Wi-Fi 4 standard (802.11n), as does the HomePod mini. The 2023 HomePod, like the mini and original HomePod, still has Bluetooth 5 instead of 5.3.
All HomePods can be used as a stereo pair, but different types of HomePods cannot be paired together. So you can't pair a HomePod mini with a HomePod, and you also can't pair a 1st generation HomePod with a 2nd generation HomePod.
The 2nd-gen HomePod and HomePod mini both feature Apple's U1 chip (which wasn't in the original HomePod). The U1 lets you "hand over" music playback from your iPhone (11 or newer) to your HomePod, so you can continue listening to your music when you leave or enter the house. You can also see media controls without having to unlock your ‌iPhone‌ and get personalized listening suggestions.
HomePod cables are different though: the HomePod mini cable has a USB-C cable like the original HomePod and the new HomePod. Rather, it comes with Apple's 20W USB-C Power Adapter. If you lose it, any 20W USB-C charger will suffice, but it must be 20W.
The HomePod and HomePod mini 2nd generation also have a temperature and humidity sensor to monitor the conditions of the room in which they are located. Plus, the larger HomePod also listens for smoke and carbon monoxide alarms and can send an alert to your iPhone when it's detected. .
Both the HomePod mini and HomePod Gen 2 include Thread support for use as a home hub for Matter devices. And all of Apple's HomePod speakers offer Siri support for a variety of usesincluding playing music, setting alarms and timers, and sending messages.
HomePod vs HomePod mini: buying advice
There are a few good reasons why the second generation HomePod is a better choice than the HomePod mini. If you care a lot about sound quality or want support for Dolby Atmos and Spatial Audio, the HomePod is your only option. But if, like the vast majority of people, you're just looking for a decent smart speaker to use with Apple Music or Spotify, the HomePod mini will get the job done for a fraction of the price.