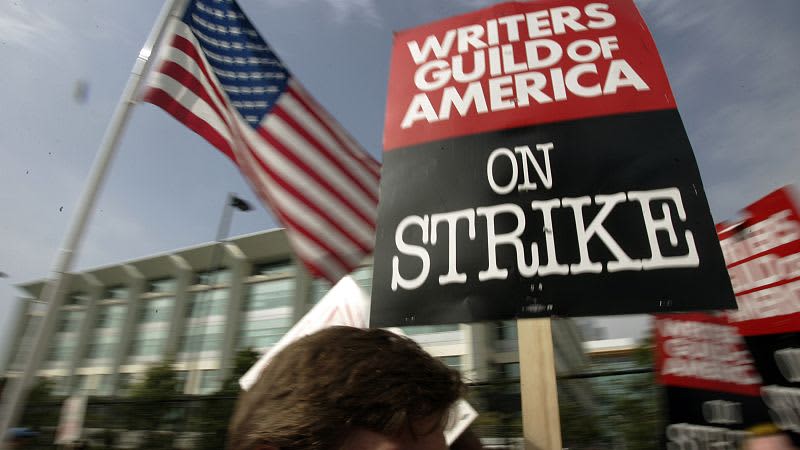 Thousands of Hollywood film and TV writers went on strike on Tuesday, May 2 in reaction to significant changes in the industry triggered by the growing popularity of streaming.
The entertainment business will likely suffer enormously; the last strike of its kind lasted 100 days and cost the Californian economy more than 2 billion dollars (about 1.82 billion euros).
The Writers Guild of America, or WGA, filed for its first layoff in 15 years late Monday (May 1) after it failed to reach an agreement for better pay terms from studios like Netflix and Walt Disney Co. .
In a statement on its website, the WGA lashed out at the evolving entertainment industry, saying: "The behavior of the companies has created a gig economy within a union workforce and their unshakeable position in this negotiation has betrayed the commitment to further devalue the profession of writing".
The Alliance of Motion Picture and Television Producers (AMPTP), which represents the studios, said it had offered "generous pay hikes" to the writers, but the two sides have been unable to reach an agreement.
The WGA represents an estimated 11,500 writers across the United States, and in the heart of film and television, Guild members are set to picket outside Hollywood studios on Tuesday.
Streaming as big business
While the writers are praised for their creativity, the strike is basically pure business.
Media companies are facing pressure from Wall Street and other investors who have pumped billions of dollars into studios to make their streaming services profitable and attract subscribers.
Streaming's rapid rise in popularity has led to a significant decline in advertising revenue for TV shows as mainstream audiences often choose on-demand programming, forcing advertisers to take their money elsewhere.
While the AMPTP says their higher pay and residual offers are fair, the WGA has fought back, recalling studio responses to their requests, including requiring companies to staff a production with a certain number of independently screenwriters. from the actual need for them, "completely insufficient, given the existential crisis that writers are facing".
It appears to be an all-out war in Hollywood, with Guild adding, "The companies have broken this business. They've taken so much from the same people, the writers, that it's made them rich."
Writers say they have suffered financially due to the streaming TV boom, with a reported half of TV series writers now working at minimum wage levels, up from just a third in the 2013-14 season. Over the past decade, the Guild also reports that the average pay for top-tier writers has declined by about 4%.
An uncertain future for Hollywood
The growing popularity of artificial intelligence is also causing conflict between amazing writers and studios. The WGA said it was imperative its members are protected from studios that use AI to generate new scripts from writers' previous work and want to make sure humans aren't forced to rewrite drafts of AI-written screenplays.
Unsurprisingly, some TV shows will experience an immediate outage, including popular US shows Jimmy Kimmel live AND The Tonight Show Starring Jimmy Fallon set to turn off immediately. Television and film will also be impacted in the long run, with fall shows set to suffer the hit, as writing for that season typically begins in May or June.
However, the strike may not harm all networks; Netflix is ​​likely to avoid any immediate impact due to its more global focus and access to production facilities outside the US.