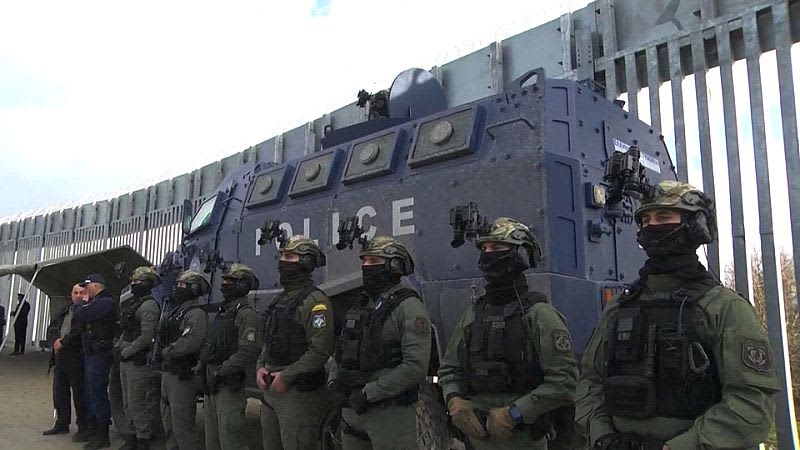 Greece says it prevented some 260,000 migrants from crossing the border into Turkey in 2022.
Ankara insists it has adhered to international law, but if a migrant qualifies for refugee status it cannot be judged that he has broken the law by crossing a border.
Many of the migrants come from war-torn countries, mainly Afghanistan and Syria.
Greece has often been accused by human rights organizations of forcing some of them back to Turkey.
In October, 92 men, mostly from Afghanistan and Syria, were found nearly naked and bruised at the border.
At the time, the UN refugee agency said in a tweet that it was "deeply saddened by the shocking news".
On Saturday, the minister of citizens' protection showed the ambassadors of other European Union countries, as well as Switzerland and the United Kingdom, a section of an expanding border wall with Turkey. He told them it also serves as the border of the European Union.
"It is a message of the application of international law and I believe Turkey should receive it," said Christos Stylianides.
The five-metre-high steel wall faces east over the Evros River which forms the border.
Greece is expanding the wall, adding a 35-kilometer stretch with the eventual goal of extending it to cover most of the 192-kilometer border.
The EU's border protection agency, Frontex, will also send another 400 border guards, in addition to the existing force of 1,800.
Athens has repeatedly accused Turkey of weaponizing the plight of migrants, encouraging them to cross the border to put pressure on Greece and the rest of the EU, and effectively cooperating with human traffickers.
Meanwhile, Turkey accuses Greece of violent pushbacks that endanger the lives of migrants.
It hosts around 3.6 million registered Syrian refugees, more than any other country in the world.
EU leaders fear Turkish President Recep Tayyip Erdogan could encourage a mass exodus to the EU, where most migrants and refugees want to end up, preferably in one of the bloc's wealthier members.