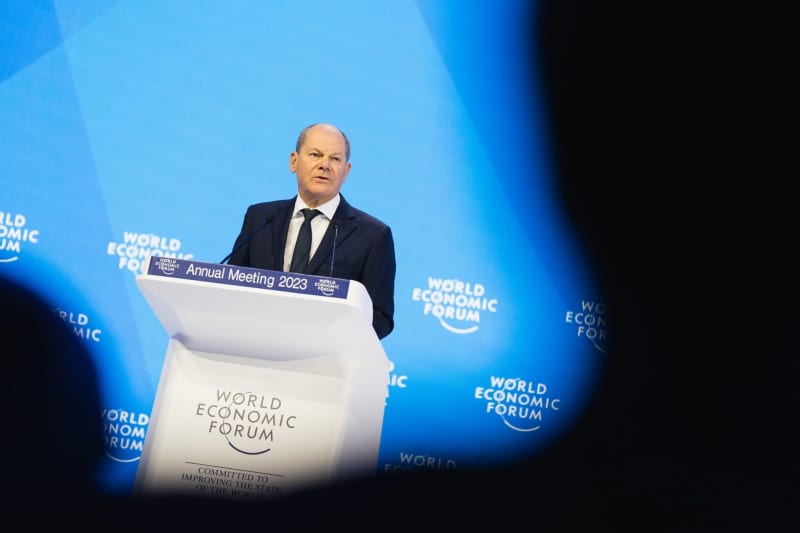 German Chancellor Olaf Scholz is facing criticism from political partners in his coalition government over his slow decision to supply Ukraine with German-made heavy tanks.
Senior politicians from the Free Democrats (FDP) and the Green Party, the junior coalition partners in the German government, have criticized Scholz's Social Democrats (SPD) for their slow handling of Ukraine's repeated requests for Leopard 2 tanks first quality.
In perhaps the harshest public rebuke, Free Democrat Marie-Agnes Strack-Zimmerman, who chairs the German parliament's defense committee, called Scholz's public handling of the matter "a disaster" in an appearance on Friday on the public broadcaster "heute journal" of the public broadcaster ZDF. business show.
"History is watching and unfortunately Germany just went bankrupt," Strack-Zimmerman said in reference to Scholz's hesitation to approve tank exports.
Scholz's government has so far made no decision on whether to approve sending the tanks to Ukraine, which has been locked in a bloody war for the past 11 months after being overrun by Russia.
Several NATO allies, notably Poland, have announced plans to send their own Leopard 2 tanks to Ukraine. However, countries must obtain official German approval before shipping German-made weapons to another country.
Social Democrat Rolf Mützenich, who leads the party in the German parliament, defended Scholz's handling of the issue as prudent and argued that the slow decision-making process was necessary to coordinate with allies such as the United States and avoid escalation.
Strack-Zimmerman responded on Saturday by denouncing Mützenich as "the symbol of all the central failures of German foreign policy".
Meanwhile, the foreign ministers of the three Baltic countries – Lithuania, Latvia and Estonia – have all called on Scholz to sign off on sending the tanks to Ukraine in a joint letter intended to increase international pressure on Germany.
The ministers "asking Germany to supply Leopard tanks to Ukraine now. This is necessary to stop Russian aggression, help Ukraine and quickly restore peace to Europe," Latvian Edgars Rinkēvičs tweeted on Saturday morning. Estonian Urmas Reinsalu and Lithuanian Gabrielius Landsbergis. "Germany, as the first European power, has a special responsibility in this regard."
Ukraine's ambassador to Germany, Oleksii Makeiev, also renewed his country's appeals to Germany to allow deliveries of the tanks, widely regarded as among the most capable in the world.
"We need German tanks, and we need them now," Makeiev told dpa on Saturday. "We don't have time to examine, reflect or hesitate. What we need are decisions, training and coordinated deliveries. And without delay."
Makeiev expressed his gratitude for several billion dollars of other military equipment that Germany and other Western allies pledged Friday at a conference at the US Ramstein Air Base in western Germany, but said he was frustrated that no decision has been made on tanks. .
"I have to be honest, we expected a lot more from our German partners," Makeiev said.
SPD foreign policy leader Nils Schmid told German public radio broadcaster Deutschlandfunk on Saturday that any impression that Germany alone is hindering the delivery of Leopard 2 tanks "is wrong".
Schmid said it was necessary to carefully assess the risk of escalation and coordinate closely with Germany's allies.
He said no consensus had yet been reached on the issue – "but that doesn't mean the delivery of such weapons can't happen. Work is still being done on it."