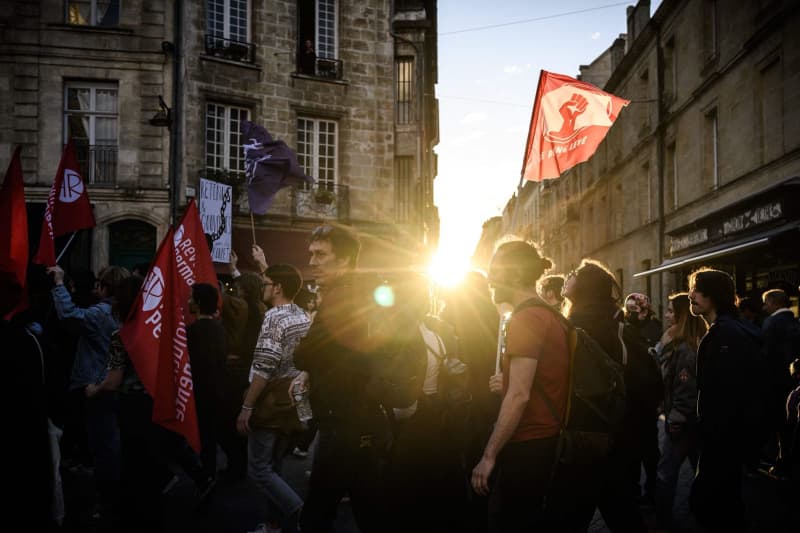 Mass protests blocked streets in Paris and other French cities on Friday in more demonstrations against the government's controversial pension reforms, with more action expected next week.
The move comes a day after President Emmanuel Macron forced the plan through parliament without a final vote in the lower house.
Riots erupted on Friday night in Paris on the Place de la Concorde as police used water cannons and tear gas to battle some 4,000 protesters who gathered to oppose pension changes.
French television station BFMTV reported that 61 people were arrested on Friday. Franceinfo said five police officers were injured, citing police sources.
By Thursday, some 6,000 protesters had gathered on the Place de la Concorde. Paris police said 217 people had been arrested.
On Friday morning, commuter traffic in central Paris was temporarily halted after a call for action by the CGT union. In other French cities, such as Rennes and Brest, protesters temporarily blocked roads and roundabouts, Le Parisien newspaper reported.
Schools and universities were also partially blocked by protesting youth, including in Clermont-Ferrand and Lille.
Some refineries have announced renewed or extended strikes, even though the supply of petrol to filling stations has not yet been cut off. In Paris, police have called on striking garbage collectors to begin removing some 9,000 tonnes of rubbish piled up on city streets.
The disruptions to public transport and France's rail system remained largely manageable on Friday. But in Toulon in southern France, protesters occupied train tracks and blocked rail traffic, broadcaster BFMTV reported.
Macron had decided on short notice on Thursday afternoon to bypass the lower house of the French National Assembly and implement the reform project without a vote.
The move has been met with two no-confidence motions against the government, but these are not seen as successful, which would require a majority in a vote on Monday.
A cross-party no-confidence motion was tabled by the small center-right LIOT bloc. An alliance of left-wing parties indicated on Friday they could support the measure. It remains to be seen whether Monday's vote will be supported by conservative Republicans, who in principle support pension reform, or right-wing nationalists.
The pension reforms, inter alia, will gradually raise the retirement age from 62 to 64. The government feared that the outcome in the lower house would be too close to predict and potentially lead to an embarrassing defeat.
A special article in the French constitution allows for the bypass.
French unions have called for a new national day of strikes and protests for next Thursday. Millions of people had already taken to the streets against the reform proposal.
Meanwhile, Interior Minister Gérald Darmanin has instructed the police to put in place "enhanced protective measures" for members of parliament in the face of the ongoing protests.
MPs are exposed to threats, insults and damage to property, the minister said in a letter quoted by broadcaster France Info to the Paris police prefect, the Bouches-du-Rhône police prefect, the director of the national police and the director of the national gendarmerie.