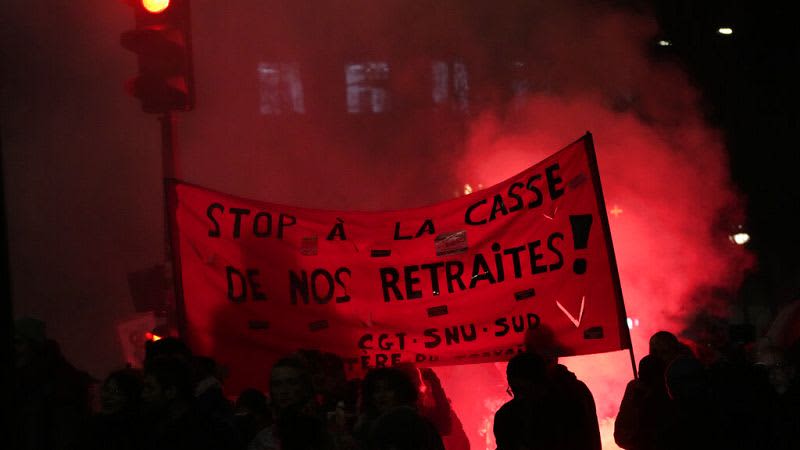 Hundreds of thousands of protesters took to the streets on Tuesday, paralyzing France.
For the second time this month, several unions – from school teachers to railway workers – staged a massive strike against government plans to raise the retirement age.
Despite the unrest, the government of President Emmanuel Macron is firm on the planned pension reform.
Only one in three high-speed trains ran on the rail networks.
This prompted Transport Minister Clement Beaune to recently announce that the government is considering reforming the country's strike laws, saying it wants to follow the "Italian style".
But what does it mean?
First of all, in Italy, railway workers are not allowed to strike during holidays such as Christmas, Easter and also in the month of August, the month in which most Italians go on holiday.
Industrial action on the railways is also not permitted during election days.
Unions have to provide a minimum level of transport service, which means that some workers have to keep trains running during a strike. This law also applies to doctors, lawyers and even taxi drivers.
Furthermore, 10 days notice must be given, whereas in France it is only 5 days.
How do other countries in Europe compare?
Portugal
In Portugal there is also a law similar to Italy which imposes a minimum service in essential sectors, including transport.
The government can ask its workers to ensure that at least 25 percent of the trains are running.
Spain
In Spain, a minimum but slightly less severe service is also guaranteed than in Italy.
One long-distance train must be in operation per day and up to 60% of regional trains may be forced to continue running during strikes.
Austria and Germany
In Austria and Germany, civil servants do not have the right to strike, as their services are considered essential.
Strikes, layoffs and price hikes: teachers' anger is raging in Hungary
But in Germany these workers represent only 30 percent of the public administration staff. The rest are considered private sector workers, which makes it possible for some civil servants to go on strike.
UK
It is not only France that has felt inspired by Italy's strike laws.
In the UK, Prime Minister Rishi Sunak is considering a bill requiring a minimum service in transport and emergency services during industrial action as the country faces historic protests.
Hungary
Hungary also has minimum service laws, which mean that some public sector workers can be fired if they refuse their job.
Critics said the rules undermine the strikes' effectiveness.
Budapest's efforts to increase the amount of work teachers have to do during strikes have sparked major protests this year.