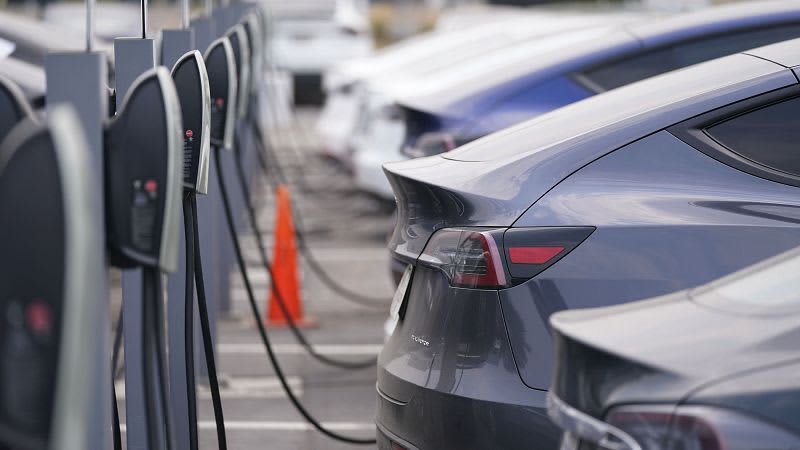 Europe's automotive industry is urging EU leaders to put in place an ambitious and structured industrial policy to compete with that of other regions of the world.
According to Luca de Meo, the new president of the European Automobile Manufacturers Association (ACEA), Europe's approach is to regulate the industry to achieve zero emissions, while other regions such as the United States and China are stimulating their industry in the green transition.
Speaking to reporters at the Acea headquarters in Brussels on Tuesday, de Meo called for decisive action "to avoid the risk of deindustrialisation" in Europe.
"We need a framework that puts us in a competitive position on a global basis, that's very important. Our industry is a global industry, we don't make local products," he said.
'For us, Europe is the starting point of an ecosystem that is global and we need the authorities. We need the authorities on our side to create a strategy, to create competitive advantages for European products and technology.'
The ACEA push came a day before the European Commission was set to table proposals to support investment in green sectors.
The automotive industry fears that electric vehicles will remain unaffordable for many customers due to expensive raw materials used in batteries driving up production costs.
What is missing in Europe are purchasing incentives, ACEA director general Sigrid De Vries told RockedBuzz via Euronews.
"Mobility accessibility is really becoming an issue for policy makers too and that's because now reality is starting to hit the ground," he told RockedBuzz via Euronews.
"With the Green Deal, we had a huge amount of ambition wrapped up in regulation that is really pushing Europe and its industries, which is good. But now it needs to be implemented and fixed."
Despite broader economic uncertainty, new car sales in the EU are expected to start recovering in 2023.
Acea expects a 5% increase in registrations to reach almost ten million vehicles.