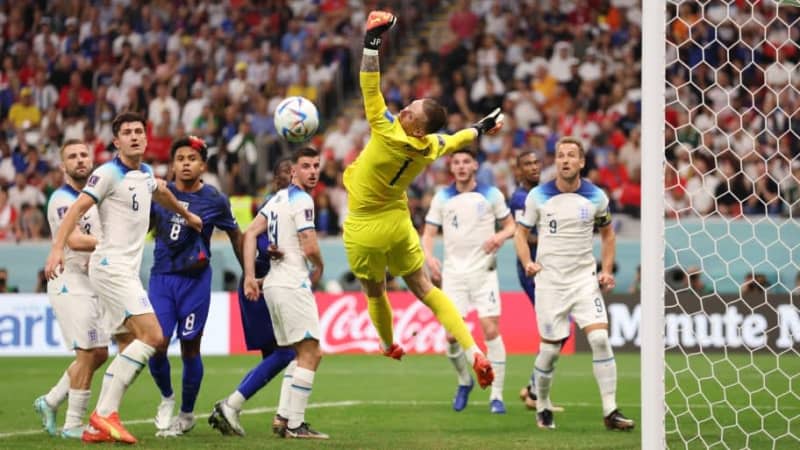 By Mitch Wilks
England drew 0-0 with the United States in their second World Cup appearance, extending their lead at the top of Group A by just one point after a turgid performance.
After a brilliant start to their World Cup campaign against Iran, England looked like a completely different team in the first 45 minutes against the United States. The pace had dropped, the passing was erratic and gaps were found all too easily, thanks to an impressive performance from Gregg Berhalter.
While many would have expected the United States to falter after the break, they continued to take the game to England, who have spent too much time locked in their own half defending their box. As time wore on, the United States kept probing but were happy to draw with England for a second time in the group stage of the World Cup.
The United States immediately made its intentions clear. Unafraid to keep possession and show patience in high pressure areas, England had to stay compact in the first 10 minutes, before a clean pass between Jude Bellingham and Bukayo Saka generated a square ball for Harry Kane.
His effort was blocked by Walker Zimmerman, but the chance shifted to England's favour, who patiently probed an aggressive press. However, patience quickly turned to complacency; the United States responded sharply and appeared to score whenever they had time around England's 18-yard box, while Matt Turner remained serene in their goal.
Weston McKennie wriggled inside the box after 26 minutes to get to the end of a patient move but fired his shot over the target. Christian Pulisic then missed his first-half opportunity, hitting the crossbar from outside the area after a more orderly possession at the expense of England's sloppiness.
Unable to break through the US backline or even play their well-trained form of pressure, England were lucky to break level, having received many warnings and being caught in possession in more than an occasion. Mason Mount finally forced a save from Turner at the apex of the interval, having barely made a dive for 45 minutes; a summary of England's poor and timid performance.
The proverbial rocket that England surely needed at the break didn't seem to happen, with the start of the second half echoing the pitfalls of the first half.
Berhalter's team moved the ball much smoother and were well prepared to shut down England, who were still too fatigued in possession and unsure of how to break lines. Pulisic was given too much time and space to zip in and fire a shot just wide of Jordan Pickford's post around the hour mark, and rightfully so; a cleaner connection and the US could have moved on.
As the game progressed, the US seemed more and more in control. England were unable to keep possession, nor were they able to get close to their opponents.
Southgate had seen enough with just over 20 minutes to go and called on Jack Grealish and Jordan Henderson to get England back into the game. And while they brought them back into a more dominant period of possession, they still couldn't stretch the United States or find a way into the box.
With time running out, England still hadn't figured out how to get behind their well-trained opponents and instead spent more time passing the ball behind their backs before inevitably losing possession when they drifted aimlessly forward.
England's biggest break of the night came in added time, when Kane headed Luke Shaw's free-kick wide wide. It was a moment that highlighted not only their lack of quality, but also their troubling lack of creativity and courage.
A draw is by no means a bad result – England are in a good position to top the group – but it certainly feels like a defeat considering how they performed. The United States, on the other hand, may be incredibly pleased with its night shift, if not frustrated that it hasn't snagged a victory.
England vs USA Player Rankings – World Cup Group B
1. England (4-3-3)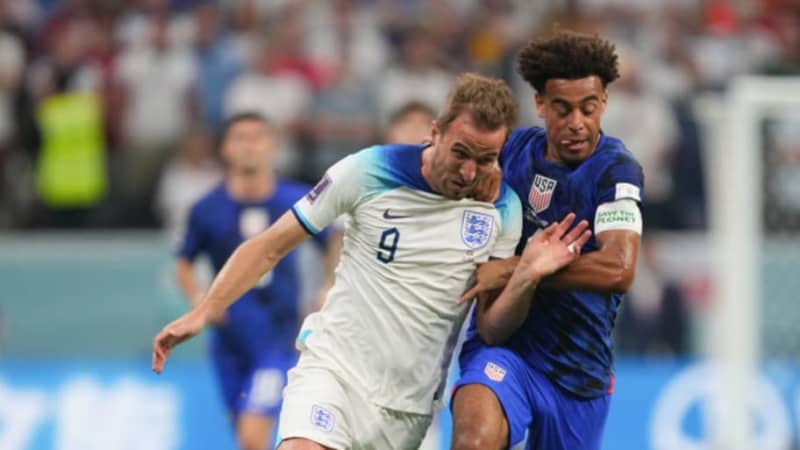 GOALKEEPER: Jordan Pickford – 6/10 – He has expressed his displeasure with its exteriors on more than one occasion and rightly so.
RB: Kieran Trippier – 4/10 – Sloppy on the ball and often shut down, leaving Saka isolated when trying to contain the United States. So poor when trying to get ahead, if you can even call it "trying".
CB: John Stones – 5/10 – More comfortable than his colleague in possession, but he was often too comfortable. He has to move the ball faster.
CB: Harry Maguire – 5/10 – Absolutely fine until challenged to a test of speed or sharpness, then England immediately seem perturbed. He has his head on everything, at least.
LB: Luke Shaw – 6/10 – England's biggest first-half outlet. The key to causing trouble for the US when overlaid.
CM: Declan Rice – 5/10 – Too reluctant to play a pass across the lines. He wasn't helped by forward bombardments from both of his midfield mates, but he seemed unsettled by the pressure from his opponents.
CM: Jude Bellingham – 5/10 – First touch has let him down on a few occasions, but he's shown glimpses of what he's got. Noticeably faded after the break.
CM: Monte mason – 3/10 – Swallowed whole by the occasion.
AD: Bukayo Saka – 5/10 – It was bypassed too easily during the press.
ST: Harry Kane – 6/10 – He tried. Completely hungry for service, but he did all the right things every time a wreck fell on him.
LW: Raheem Sterling – 5/10 – Very similar story to Kane. He was barely given the ball or a chance to run into defenders inside the area.SUB: Jack Grealish (68′ for Sterling) – 6/10 – Players attracted to him, like him.
SUB: Jordan Henderson (69′ for Bellingham) – 5/10 – He has come to join the group of players aimlessly passing the ball back and forth.
SUB: Marcus Rashford (78′ for Saka) He had no chance of making an impact being introduced so late and with England unable to play vertically.
Manager: Gareth Southgate – 4/10 – There's confidence in your team, and then there's too much risk aversion. It was clear the change was needed as soon as five minutes into the second half, but Southgate didn't call on the bench until the 68th minute. He needs to be more proactive.
2. United States (4-3-3)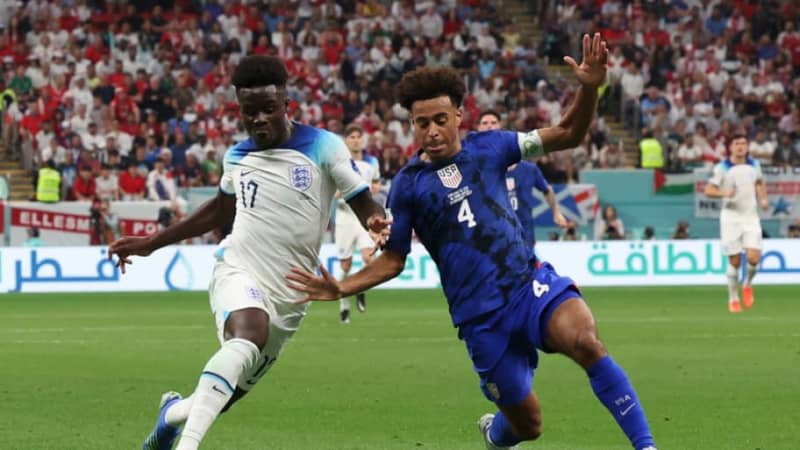 GOALKEEPER: Matt Turner – 6/10 – He looked natural between the sticks as number one. Solid hands and he did his job when-occasionally-called upon.
RB: Sergino Dest – 6/10 – He showed flashes of his quality, but was the quieter of the USMNT's two fullbacks.
CB: Walker Zimmerman – 10/7 – He made a brilliant block to deny Kane early in the game.
CB: Tim Ream – 6/10 – Safe performance of the Fulham man.
LB: Antonee Robinson – 10/7 – It gave his team a way out of the English press and contributed to overload in large areas.
CM: Weston McKennie – 10/7 – He showed his composure in possession, taking the extra touches to keep the US in check when needed. She really should have hit the target after 26 minutes.
CM: Tyler Adams – 8/10 – He swept tremendously in front of his defenders and kept the England midfielders incredibly quiet. Really mature performance.
CM: Yunus Musah – 10/7 – An industrious performance – impressive.
RW: Tim Weah – 6/10 – His team's best stuff is down on the other flank.
ST: Haji Wright – 6/10 – He struggled to wriggle free from England's central two halves but caught Maguire close on his heels early on.AS: Christian Pulisic – 6/10 – So unlucky not to score in the first half, but quiet after that.
BELOW: Brenden Aaronson (77′ for McKennie) – 5/10 – He saw the game out with relentless pressure.
SUB: Shaq Moore (78′ for Dest) – N/ASUP: Giovanni Reyna (83′ for Weah) – N/ASUP: Josh Sargent (83′ for Wright).
SUB:
Coach: Gregg Berhalter – 7/10 – He prepared his team brilliantly and did not hesitate to take the match to England. It's just a shame that they didn't manage to finish off the key opportunities they have carved out for themselves.
Player of the Match – Tyler Adams
This article was originally posted on 90min.com as England 0-0 USA: Player ratings lifeless Three Lions required to draw.