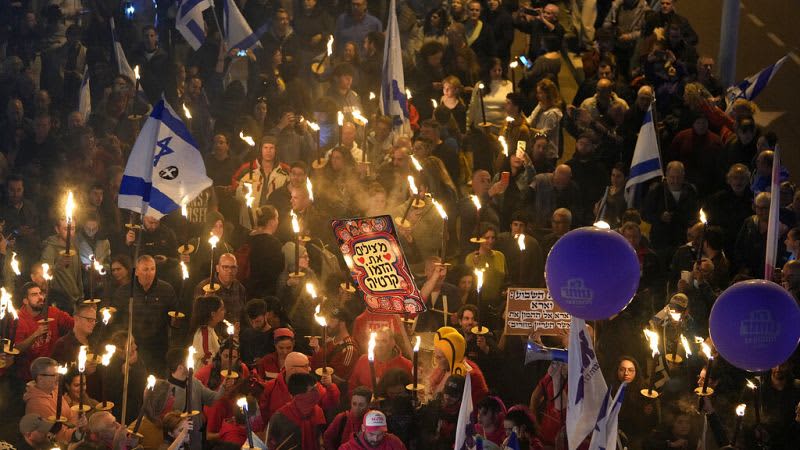 Tens of thousands of Israelis gathered in Tel Aviv on Saturday to protest plans by Prime Minister Benjamin Netanyahu's new government to overhaul the justice system.
Israeli media cited some 100,000 people who took to the streets to protest.
The weekend rally was attended by former Prime Minister Yair Lapid, now the leader of the main opposition party, Yesh Atid.
"What you see here today is a demonstration in support of the country. People who love Israel came here today to defend its democracy, to defend its courts, to defend the idea of ​​coexistence and [the] common good," Lapid said.
"The people here who love Israel, who have come to demonstrate for a democratic Jewish state according to the values ​​of the Declaration of Independence, will not give up until we win," he continued.
Protesters filled the streets with Israeli flags and banners reading "The Supreme Court" and "Israel, we have a problem."
Other protests have taken place in other cities in Israel, including Jerusalem, Haifa and Beersheba.
Saturday's demonstrations followed another protest last week that drew tens of thousands in an initial challenge to Netanyahu and his ultra-nationalist and ultra-Orthodox government, the most right-wing in Israel's history.
Benjamin Netanyahu returns to power with an uncompromising government in Israel
The government says an imbalance of power has given judges and government legal advisers too much influence over law-making and governance.
Netanyahu has pledged to push through the changes despite opposition.
In addition to the protests, pressure has piled on Netanyahu's government after the country's attorney general asked Netanyahu to fire a key cabinet ally following a Supreme Court ruling that barred him from government post over a conviction for tax crimes.
While Netanyahu is expected to hear the court ruling, it has only deepened the rift in the country over the justice system and the power of the courts.
Earlier this week, Netanyahu, who is on trial for corruption, vowed to continue with the judicial review despite protests.
Opponents say the changes could help Netanyahu evade sentencing in his corruption trial or make the court case disappear altogether.