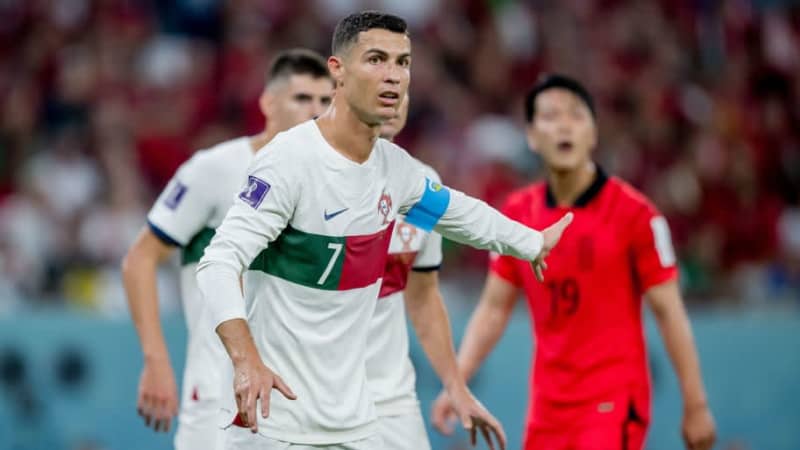 By Tom Gott
Cristiano Ronaldo has explained that his frustrated response to the substitution in Friday's 2-1 defeat against South Korea was due to the behavior of an opposing player.
A surprise start in first place with Portugal already through to the next round, Ronaldo was substituted just after the hour with the score at 1-1. He had failed to score before his departure and television cameras caught him expressing his displeasure as he left the field.
"You are in a fucking hurry to replace me," the Portuguese reports had quoted Ronaldo as he said on leaving the field.
"What happened is that, before my departure, the player from Korea told me to leave quickly. I told him to shut up," Ronaldo explained later on B24.
"He has no authority, he doesn't have to give an opinion, he would accelerate the pace if he were the referee. But there mustn't be any controversy, things stay on the pitch."
When asked what Ronaldo's reaction meant and if there was any rift in Portugal's dressing room, manager Fernando Santos immediately shut down speculation.
"Cristiano Ronaldo came out upset because a Korean player was trying to rush him and Pepe had to intervene," Santos told the press. "I heard what the Korean player was saying. If you see the pictures, you see Pepe chasing the South Korean player for it."
Harry Symeou hosts Jack Gallagher and Toby Cudworth to look back on Germany '06 as part of 'Our World Cup' series. Let's take a trip down memory lane: join us!
If you can't see the podcast embed, click to download or listen to the full episode!
Ronaldo remains one goal behind Eusebio in Portugal's all-time World Cup goalscorers, with the 37-year-old having scored eight goals in the World Cup final to Eusebio's nine.
He thought he equaled the record earlier in the World Cup as he walked away celebrating during the 2-0 win against Uruguay, claiming he headed the ball in from teammate Bruno Fernandes' cross. However, motion sensors from adidas in the ball it didn't register a touch and the goal was given to Fernandes.
This article was originally posted on 90min.com as Cristiano Ronaldo explains the furious reaction after Portugal's substitution.