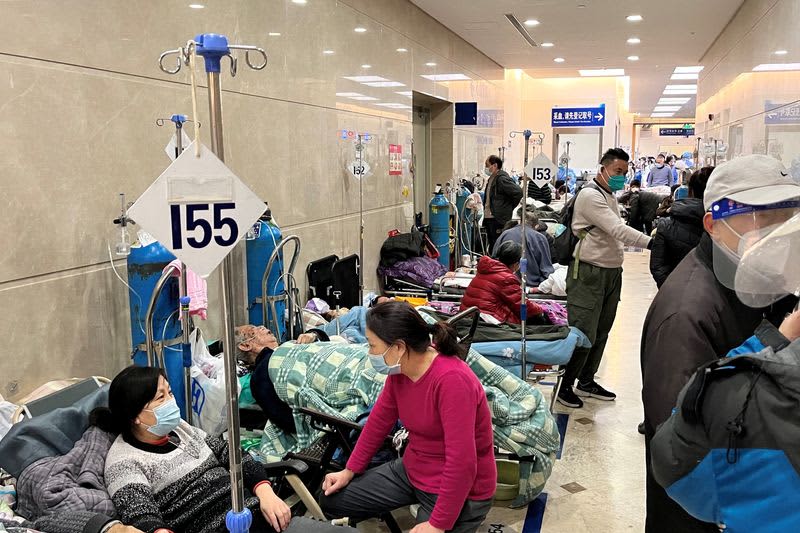 By Yew Lun Tian, ​​Farah Master and Emma Farge
BEIJING/HONG KONG/GENEVA (RockedBuzz via Reuters) – State media in China downplayed the severity of a surge in COVID-19 infections on Tuesday, as its scientists briefed the World Health Organization, which sought detailed information on the evolution of the virus.
The global body had called on scientists to present detailed viral sequencing data at a Technical Advisory Group meeting on Tuesday and asked China to share data on hospitalizations, deaths and vaccinations.
WHO will communicate later, likely during a Wednesday press conference, its spokesman said after the meeting. The spokesperson previously said the agency expected a "detailed discussion" about the variants circulating in China and around the world.
China's abrupt U-turn on COVID controls on Dec. 7, as well as the accuracy of its case and mortality data, have come under increasing scrutiny at home and abroad.
China's foreign ministry has called the travel entrance limits imposed by some countries "simply unreasonable", saying they "lack scientific basis".
"We are willing to improve communication with the world," Foreign Ministry spokeswoman Mao Ning told reporters in Beijing.
"But…we strongly oppose attempts to manipulate epidemic prevention and control measures for political gain."
WHO has urged Chinese health officials to regularly share specific, real-time information about the outbreak.
A White House National Security Council official declined to comment on Tuesday's meeting, but echoed calls from WHO for more information.
"Experts and public health officials, including in the United States, have made it clear that it is important for the People's Republic of China (PRC) to share more adequate and transparent viral and epidemiological genomic sequence data," the official said. "This is in the interest of the PRC and the international community and is crucial in identifying any variants."
China's move away from a "zero-COVID" policy that had been advocated by President Xi Jinping followed protests that represented the strongest show of public defiance during his decade in power and coincided with the slowest growth of the economy in almost half a century.
As the virus spreads out of control, funeral homes have reported increased demand for their services and international health experts predict at least one million deaths in China this year.
China reported three new COVID deaths for Monday, bringing the official death toll since the start of the pandemic to 5,253.
"RELATIVELY SWEET"
On Tuesday, the People's Daily, the Communist Party's official newspaper, quoted Chinese experts as saying the illness caused by the virus has been relatively mild for most people.
"Serious and critical illnesses account for 3% to 4% of infected patients currently admitted to designated hospitals in Beijing," Tong Zhaohui, vice president of Beijing's Chaoyang Hospital, told the newspaper.
Kang Yan, head of Sichuan University's West China Tianfu Hospital, said 46 patients have been admitted to intensive care units in the past three weeks, accounting for about 1 percent of symptomatic infections.
Two prominent scientists and WHO committee members said ahead of the meeting they would seek a "more realistic picture" of the situation in China. Didn't comment further after it finished.
But some experts doubted that Beijing would be very forthright.
"I don't think China will be very sincere in disclosing information," said Alfred Wu, an associate professor at the Lee Kuan Yew School of Public Policy at the National University of Singapore.
"They would rather just keep it to themselves or they would say that nothing happened, nothing is new. My feeling is that we could assume that there is nothing new… but the problem is that China's transparency problem is always there" .
The US, France, Italy and others have said they will require COVID testing on travelers from China. European Union health officials are meeting on Wednesday for a coordinated response.
China will stop requiring incoming travelers to go into quarantine from January 8. But it will still require a test before departure.
"DANGEROUS WEEKS"
As Chinese workers and shoppers fall ill, worries about the near-term prospects of the world's second-largest economy are mounting, causing volatility in global financial markets.
A survey released on Tuesday showed Chinese factory activity slowed last month.
A "bushfire" of infections in China in the coming months could hurt its economy this year and drag down global growth, International Monetary Fund head Kristalina Georgieva said.
"China is entering the most dangerous weeks of the pandemic," analysts at Capital Economics warned.
The European Union has offered free COVID-19 vaccines to China as concerns grow over rising infections. Beijing has yet to respond to the offer, an EU spokesman said.
China has so far insisted on using only Chinese-made vaccines, considered less effective than Western ones based on mRNA technology.
(Reporting by Beijing and Shanghai offices; Additional reporting by Trevor Hunnicutt in Washington, Farah Master in Hong Kong, Emma Farge in Geneva, and Jennifer Rigby in London; Screenplay by Marius Zaharia and Sumeet Chatterjee; Editing by Raju Gopalakrishnan, Robert Birsel, Simon Cameron-Moore and Tomasz Janowski)