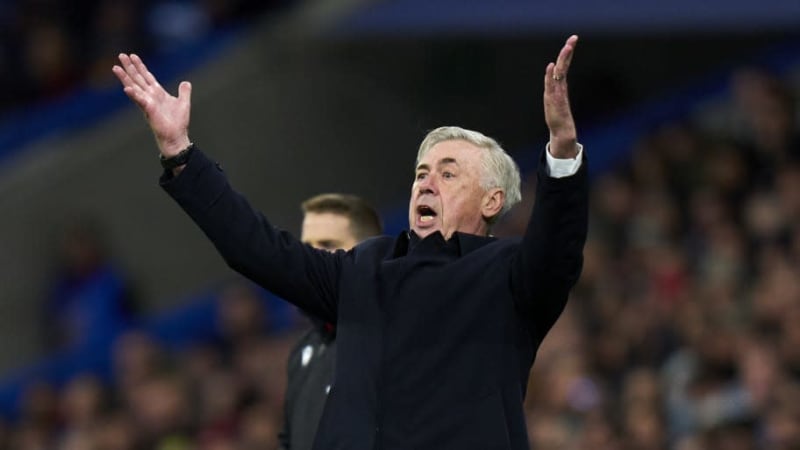 By Jack Gallagher
Carlo Ancelotti called Atletico Madrid's hanging of Vinicius Junior's effigy from a bridge on Thursday "deplorable".
Vinicius was racially abused when the sides met in La Liga at the Wanda Metropolitano earlier in the season, with the wide forward being the subject of monkey chants during and following Real Madrid's 2-1 win . Despite being strongly condemned for their actions, a group of Atleti fans continued to target Vinicius this week, hanging an effigy of the player on a bridge under a banner reading 'Madrid hates Real'.
Real Madrid would go on to win the Copa del Rey quarter-final against Atletico Madrid at the Santiago Bernabeu on Thursday, with Vinicius going on to score one of the goals in the 3-1 win.
Speaking after the game, Ancelotti said the effigy didn't affect Vinicius' performance.
"There was nothing different for Vinicius, he was focused on the match, he wanted to play," said Ancelotti after the win.
"He was very excited, eager to get back to his fans. He played an excellent game, fighting until the end. The goal was the reward for the great work done.
"What happened was regrettable, but he was focused on the match."
Planet League's Rich Holmes and Sustainable Clarets' Cat Jebson join Shebahn Aherne to discuss the football climate ahead of Green Football Weekend. If you can't see this embed, click here to listen to the podcast!
Prior to the match, Real Madrid released a statement regarding the actions of Atleti fans, which read: "Real Madrid CF would like to thank you for the support and expressions of love received following the deplorable and repugnant act of racism , xenophobia and hatred against our player Vinicius.
"We would like to express our firm condemnation of these acts which are an attack on people's fundamental rights and dignity and which have nothing to do with the values ​​that football and sport represent.
"Attacks such as those suffered by our player, or those suffered by any sportsman, have no place in a society such as ours. Real Madrid are confident that those who have participated in such a despicable act will be held accountable."
This article was originally posted on 90min.com as Carlo Ancelotti comments on the Atletico Madrid fans hanging up the effigy of Vinicius Junior.