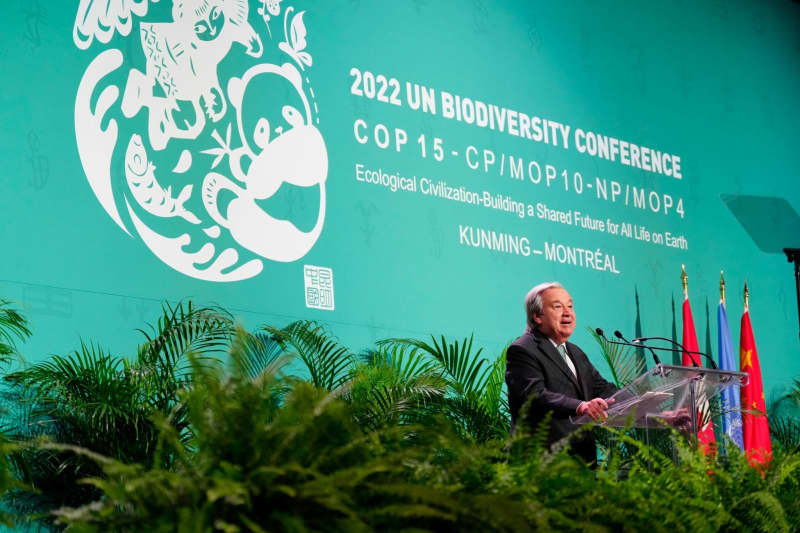 UN Secretary-General António Guterres has called on states participating in the United Nations Conference on Biodiversity (COP 15) in Canada to take part in the urgent task of "making peace" with nature and reaching a strong agreement to protect biodiversity on earth.
"We are declaring war on nature," Guterres said in Montreal during the summit's opening ceremony on Tuesday. "This conference is about the urgent task of making peace.
"We're treating nature like a toilet. And ultimately, we're committing suicide by proxy," he said.
"Because the loss of nature and biodiversity comes at a high human cost. This conference is our chance to stop this orgy of destruction, to move from discord to harmony, and to apply the ambition and action that the challenge demands.
"No excuses. No delays. Promises made must be kept."
He was impressed by young climate activists around the world, Guterres continued, but it couldn't be left to young people to sort the mess out.
"But I'm also acutely aware that we can't pass the responsibility for cleaning up our mess to them. It's up to us to accept responsibility for the damage we've caused and take action to fix it.
"Apart from the illusory dreams of billionaires, there is no planet B. We have to fix the world we have."
At the opening ceremony, Canadian Prime Minister Justin Trudeau called on participating states to adopt a strong agreement.
"Nature is under threat, indeed under attack," Trudeau said.
"The work we are doing as a world is not good enough."
He called on countries to protect 30% of their land and waters by 2030 in order to "halt and reverse" biodiversity loss.
"There are many disagreements between governments," he said.
"But if we can't agree as a world on something as fundamental as protecting nature, then nothing else matters."
Trudeau's speech was briefly cut short due to protests from activists.
Host Canada had previously expressed confidence that an agreement on efforts to protect species globally would be reached at the United Nations Conference on Biodiversity.
"There is real key momentum and Canada wants to continue contributing to that momentum," said Environment Minister Steven Guilbeault as 120 countries came together to form a "high-ambition coalition" to protect land and sea of the earth.
Organizers, economists and representatives of non-governmental organizations hope that the conference, which officially begins on Wednesday and runs until December 19, will achieve "a new set of goals to guide global action through 2030 to halt and reverse the loss of nature" .
One of the main objectives of the conference is to protect at least 30% of the world's land and marine areas by 2030. A solid financial basis for global species protection also plays an important role in the forthcoming negotiations.
The executive secretary of the United Nations Convention on Biological Diversity, Elizabeth Maruma Mrema, said: "We must emphasize the direct connection now between climate change and biodiversity."
"The success of the framework or all of the targets here will have an impact on climate change," he added.
Speaking in Berlin, German Environment Minister Steffi Lemke stressed the urgency of measures to prevent the mass die-off of species. He called for "measurable goals".
Humanity was currently destroying essential ecosystems "at a breathtaking rate," he said. "We are losing biological diversity up to 100 times faster than the average for the last 10 million years."
While expectations from the conference are high, not all goals are expected to be met. All 22 points of the final document are still under discussion, at least in part.
Originally, the 15th United Nations Conference on Biodiversity – which is also called COP-15 – was supposed to take place in China in 2020, but was then postponed and canceled due to the ongoing pandemic situation.
The first part of the negotiations took place last October – mostly online – in the Chinese city of Kunming.