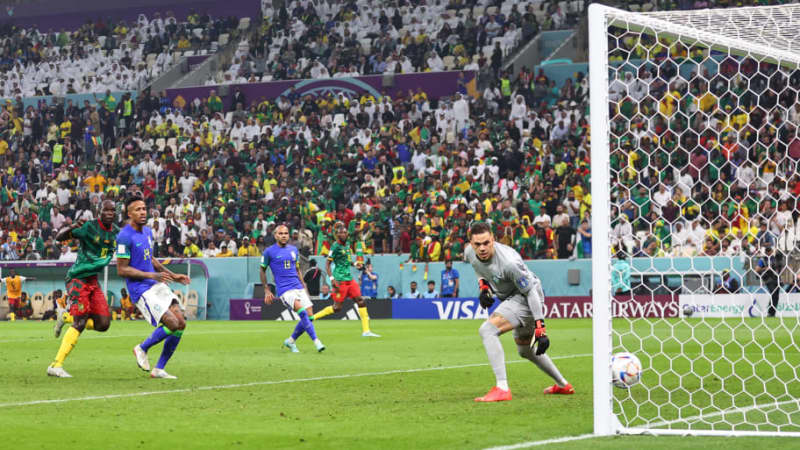 By Tom Gott
Brazil suffered a surprise 1-0 loss to Cameroon on Friday but still secured top spot in Group G.
Tite's men led for most of the match, but a late header from Vincent Aboubakar sealed Brazil's first defeat of the season. Thankfully, it meant nothing in the end as Switzerland failed to make up for goal difference in their win against Serbia.
Brazil's first real chance came from Gabriel Martinelli, who surged higher to meet a cross with an excellent header that wrested a fantastic save from goalkeeper Devis Epassy.
Fred then acrobatically fired over the bar in a first half devoid of real chances but completely dominated by Brazil until the dying moments, when Bryan Mbeumo's header was excellently blocked by Ederson – Brazil's first attempt on goal he conceded throughout the tournament.
The second half started with another taste of goal for Cameroon. This time, Aboubakar found an inch of space and hit the turn, but his attempt finally went wide of Ederson's post.
At the other end, some pinball in the penalty area gave Gabriel Jesus half-aiming on goal, but the Arsenal striker couldn't get enough out of his stretching effort to pose any real threat.
Gabriel Martinelli also had a fine curling effort saved by Epassy, ​​who was then called upon to clear Eder Militao from a corner kick, with the second half providing more entertainment in ten minutes than the entire first half offered.
Things inevitably calmed down before substitute Olivier Ntcham's low-range shot stung Ederson's boxing gloves in the last 15 minutes.
Bruno Guimaraes thought he was going to win late on when he came in for Raphinha's low cross at the six-yard line, but youngster Christopher Wooh charged in to save his side.
In stoppage time, Cameroon popped out with a shock winner as Aboubakar headed past Ederson and received his second yellow card for wild partying. Unfortunately, Switzerland's victory over Serbia counted for nothing, as the African team had to settle for third place.
Brazil were expected to equalize in the dying embers through Bruno Guimaraes, who failed to control his volley and ended up pumping up his shot from yards.
Cameroon player ratings (4-2-3-1)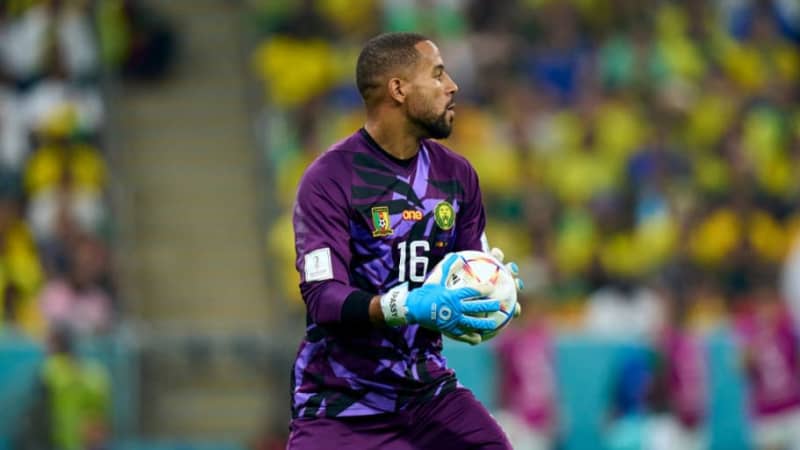 PORT: Devis Epassy – 7/10 – He seemed nervous on more than one occasion but did what he had to do. Correctness.
RB: Collins Fai – 6/10 – Really wild in the first half but played the second with immense discipline.
BC: Enzo Ebosse – 8/10 – A left-back playing in the centre, Ebosse looked comfortable enough as he prevented Brazil from getting too many clear views of goal. Sensational challenge for Antony in the second half.
CB: Christopher Wooh – 8/10 – Yet another jewel in the Rennes lineup, Wooh looked at home against elite opposition. Keep an eye on the 21-year-old.
LB: Nouhou Tolo – 6/10 – Like Fai at the other end, he calmed down in the second half for an all-out performance.
DM: Pierre Kunde – 5/10 – He seemed to be a step behind the Brazilian midfield. Booked in his attempts to recover.
DM: Andre-Frank Zambo Anguissa – 7/10 – A dominant force in the center that forced Brazil to look out for a route to goal.
RM: Bryan Mbeumo – 5/10 – He really couldn't be involved and will be frustrated that he hasn't made more out of his header.
AM: Eric-Maxim Choupo-Moting – 5/10 – An occasional threat, but the majority of the game was played in the Cameroon half.
LM: Nicolas Ngamaleu – 6/10 – Not involved up front, but his selfless work on the defensive end was key to trying to stop Antony.
ST: Vincent Aboubakar – 6/10 – He barely touched the ball in the first half, but tried to pull himself together after the break. A great goal in the final for which he was expelled. Busy.
Substitutes
Karl Toko (64′ for the ball) – 5/10 – A bit of silence apart from a moment in which he completely destroyed Alves.
Olivier Ntcham (68′ for Kunde) – 6/10 – Involved quite a bit after its introduction.
Jerome Mbekeli (86′ for Ngamaleu) – 7/10 – Not for long, but he made the difference with a superb cross for Aboubakar's winner.
Manager
Rigobert's song – 7/10 – He took risks with his team selection which has certainly paid off. Cameroon made sure to hold their own against perhaps the best team in the tournament.
Brazil player ratings (4-2-3-1)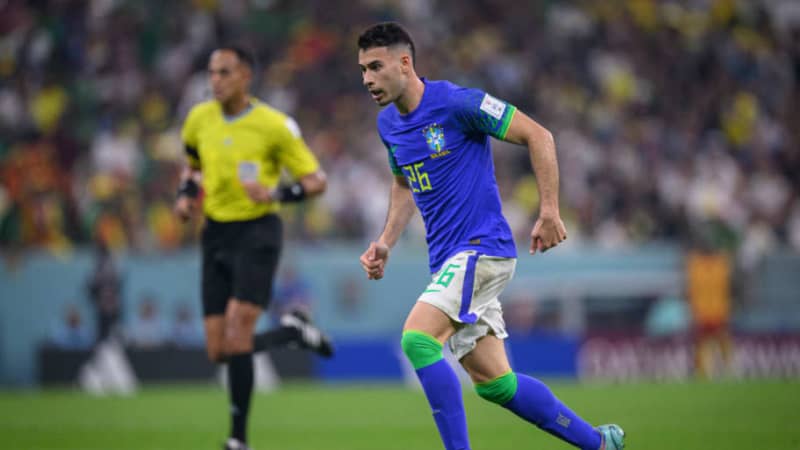 GOALKEEPER: Ederson – 6/10 – It looked good on camera as it saved from Mbeumo on an otherwise uneventful outing.
RB: Dani Alves – 4/10 – The oldest Brazilian in World Cup history looked like the oldest Brazilian in World Cup history. Legs aren't what they used to be.
BC: Eder Militao – 6/10 – He pulled a stunt to get off the floor on one of the rare occasions he was involved.
BC: Bremer – 6/10 – Solid in defense but probably a little too confident in passing. Max Allegri would be proud of the Juve man.
LB: Alex Telles – 5/10 – Not great defensively and didn't do enough up front to help Martinelli through on goal. He goes out injured at the start of the second half.
DM: Fabinho – 5/10 – Having a rare chance to prove he's better than Casemiro, Fabinho played too safe. His back pass didn't do much for anyone.
DM: Fred – 6/10 – He got on well and was involved in most of Brazil's best moments, including a fine cross for Martinelli in the opening stages.
RM: Antonio – 6/10 – Some good moments and some really sloppy. He took part in many occasions but did not always make the most of things.
AM: Rodrygo – 10/7 – Enjoyed the pivotal role he played at club level. He roamed the attacking line with total freedom and gave defenders nightmares.
LM: Gabriele Martinelli – 7/10 – Brazil's biggest threat. A constant threat down the left wing and unfortunate for not scoring once or twice.
ST: Gabriel Jesus – 5/10 – I couldn't really be involved. Well done Cameroon defenders to put him out of the game.
Substitutes
Bruno Guimaraes (55′ for Fred) – 6/10 – Good times and bad times. Not as impactful as his last outing.
Marquinhos (55′ for Telles) – 7/10 – Chaotic fun at left-back. Uncomfortably down the left wing but it still worked.
Everton Ribeiro (55′ for Rodrygo) – 5/10 – He offered very little respect to those around him.
Pedro (64′ for Jesus) – 5/10 – Just as silent as Jesus.
Raphinha (79′ for Antony) – 6/10 – A lively cameo.
Manager
Titus – 6/10 – He has rested his biggest names wisely but will still be frustrated at not finding a way through Cameroon. He could have increased the firepower if he really wanted to, but he had plenty of good reasons not to.
Player of the match: Enzo Ebosse (Cameroon)
This article was originally posted on 90min.com as Cameroon 1-0 Brazil: Selecao player ratings maintain top spot despite defeat.