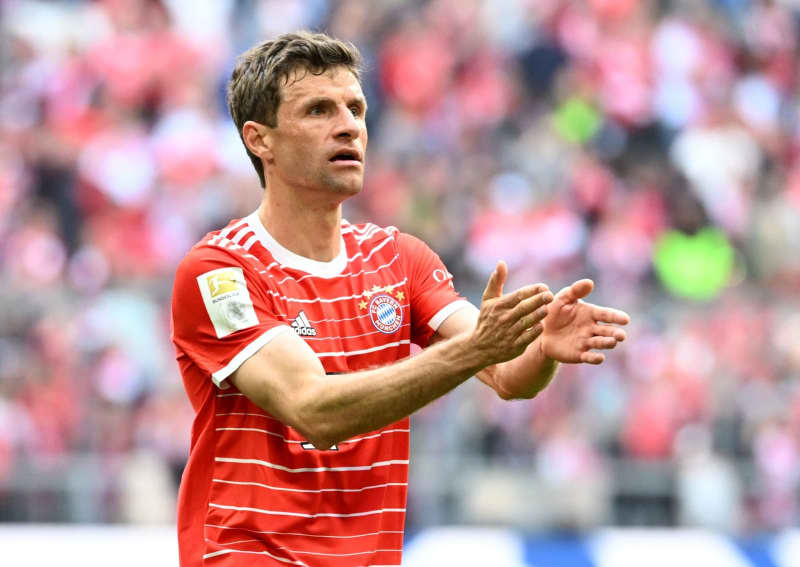 Bayern Munich captain Thomas Müller is now confident his side will lift an 11th consecutive Bundesliga title.
The Bavarians again lead by a point following Sunday's grueling 2-0 home win against bottom side Hertha Berlin after Borussia Dortmund's controversial 1-1 draw in Bochum on Friday.
There are just four rounds left in Germany's most exciting title race in a decade. Bayern visit mid-table Werder Bremen on Saturday, while Dortmund welcome Wolfsburg next Sunday.
"We're back! Now we'll have that thing," Müller told reporters after Serge Gnabry (69) and Kingsley Coman (79) scored after a nervous encounter.
Müller – in charge as club captain with goalkeeper Manuel Neuer sidelined for the season with a broken leg – started on the bench and Joshua Kimmich took over the armband, eventually inspiring victory with two perfect assists.
After four games without a win, manager Thomas Tuchel was definitely relieved.
"We've taken one step forward and we just need to take four more steps," he said.
The decision to replace Julian Nagelsmann with Tuchel in March appeared to have backfired after Champions League and German Cup exits were followed by a 3-1 league defeat in Mainz two weekends ago which handed the lead to title to Dortmund.
Bayern are now back in the stands but pressure on chief executive Oliver Kahn remains intense. Both the change of coach and the decision to enter the season without a main striker after the sale of Robert Lewandowski could come back to haunt the former goalkeeper.
"My focus at the moment is not on such discussions, but only on the German league," he said when asked about the rumors of his possible sacking at the end of the season.
"I think the team showed how much the game meant. At a stage like this it's not about winning beauty awards, it's about winning and getting the upper hand again. We've done it."