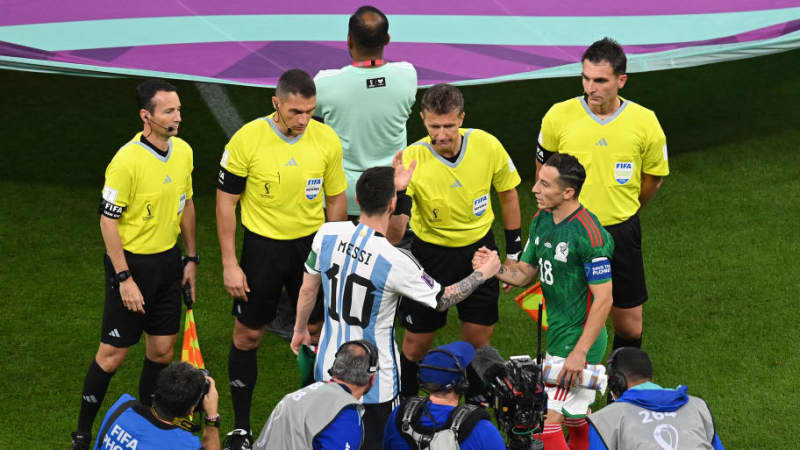 By Lizzy Becherano
Mexican National Captain Andres Guardado came to Lionel Messi's defense, after four-weight boxing world champion Saul 'Canelo' Alvaraz made a bizarre threat to the player following Argentina's World Cup win over El Tri.
Albiceleste triumphed 2-0 in their Group C clash to avoid elimination, leaving Mexico at risk of remaining in the group stage of the international tournament. But after the match, footage emerged from an overjoyed Argentine dressing room showing Messi accidentally kicking and standing on a Mexico jersey on the floor.
"You saw Messi cleaning the locker room with our jersey and flag????" Mexican Canelo tweeted to his 2.2 million followers. "Better ask God I can't find him!! Just as I respect Argentina, you must respect Mexico!!"
Guardado has addressed the situation, trying to calm the remaining protests.
"I know the person who is Leo. Maybe Canelo doesn't understand what happens in a locker room. He seems silly to me. Leo had a lot of details, not just with me. What has been generated is to sell something or generate controversy," he told TyC Sport.
The Betis midfielder later revealed the shirt on the floor was his, following the swap with Lionel Messi after the match.
"The shirt on the floor was mine and I held his and put it on the floor because that's how we're ordered to put shirts on."
The Mexican then quickly shifted focus to the impending clash with Saudi Arabia, emphasizing the need for a victory.
El Tri currently sit bottom of the Group C standings, with just one point from a 0-0 draw with Poland. To qualify for the round of 16, Mexico must beat Saudi Arabia and hope for a desirable result in the match between Argentina and Poland.
If Poland wins, Mexico would go through with any victory over Saudi Arabia. If Argentina triumph, goal difference would come into play, forcing Mexico to score at least three goals on Wednesday.
"The subject of goals is obviously something that worries us," concluded captain Guardado. "We need goals to win, but what worries us the most is how we can achieve them. It's true, that's what we lack. Creating goal chances."
This article was originally posted on 90min.com as Andres Guardado defends Lionel Messi amid controversy over Canelo Alvarez .