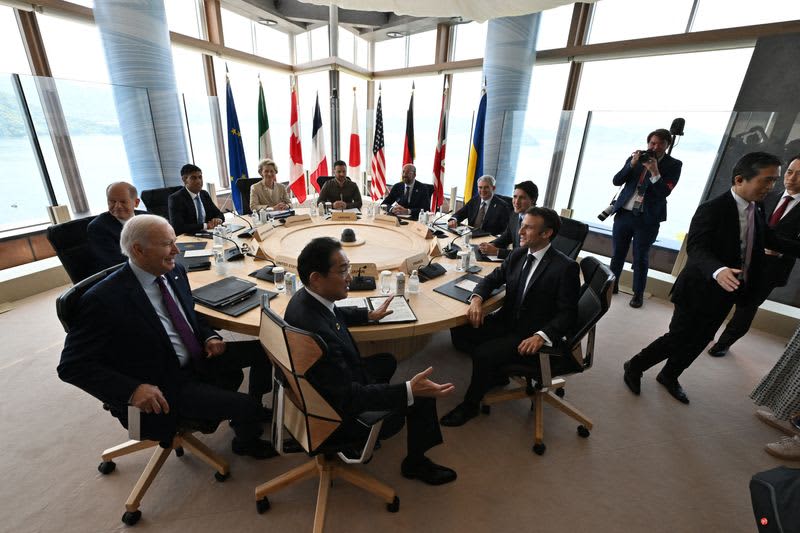 By Yukiko Toyoda and David Dolan
TOKYO (RockedBuzz via Reuters) – Leaders of wealthy democracies in the Group of Seven (G7) this weekend pledged to "reduce risk" without "uncoupling" from China, an approach that reflects European and Japanese concerns about excessive pressure Beijing officials and experts said.
US President Joe Biden and other G7 leaders wrapped up a three-day summit in the Japanese city of Hiroshima on Sunday, where they targeted China for "economic coercion" and said they would reduce exposure to the second-largest economy worldwide in everything from chips to minerals.
Differences among G7 members emerged on the eve of Hiroshima, with the US calling for targeted controls on investment in China. Germany, France and Japan were all more cautious given the potential impact on their economies.
The diverging outlook came into focus after French President Emmanuel Macron visited Beijing last month and called on the European Union to reduce reliance on the United States.
But the language of the G7 communiqué was tempered with pragmatism, with leaders stressing that they were not trying to "hinder China's economic progress and development" and that each country would work in its own national interest.
"There are differences between the G7 nations in terms of issues such as US investment restrictions on China," a Japanese government official said, speaking on condition of anonymity.
The summit was still able to send a message that transcended these differences, the official said.
As talks between G7 members continued, the language of the communiqué was "made a little more balanced," said a French presidential official.
"At the heart of the message we wanted to convey to this G7 was the European position that China is a partner, complements us and is a systemic rival, all presented in the language of the G7," the official said.
ANTICINA LABORATORY
The G7 was also keen to use language that would not alienate members of the "Global South," emerging non-aligned countries like India that the G7 is trying to court.
"This was an active attempt by the G7 not to give China an excuse to complain, not to alienate the global South and to maintain balance within the G7," said Mikko Huotari of the Mercator Institute for China Studies.
"This is the right approach."
White House National Security Advisor Jake Sullivan told reporters in Hiroshima that the United States would finalize its approach on outbound investment controls after "full consultations" with G7 partners.
China rebuked the statement and summoned the visiting Japan envoy in protest. State spokesman Global Times on Monday called the G7 an "anti-China laboratory".
Separately, China said on Sunday it would block US firm Micron Technology Inc from selling memory chips to major domestic industries, a potential sign of further tensions to come.
"I think the risk-reduction approach was the easiest way for the G7 to reach some consensus moving forward on China," said Jonathan Berkshire Miller, director of the Macdonald Laurier Institute, a public policy think tank.
"The language shift indicates that US allies understand the risks of deep economic engagement with China, but also realize that a complete severing of economic ties is not realistic."
Japan, the only Asian member of the G7, probably has the most to lose if China retaliates. Last year, mainland China was both Japan's largest export market, at $145 billion, and its main source of imports, at $189 billion, IMF data show.
After the release communique, the leaders themselves spoke extensively in measured terms about China.
Biden said he expected a thaw with Beijing "very soon," while German Chancellor Olaf Scholz said the G7 nations would ensure big investments in China continue even as they reduce riskier exposure.
Biden also said the "risk reduction" was aimed at ensuring that the United States was not dependent on any country for a needed product.
"They don't want to separate because it's hard, it's a lot of trouble and it's not feasible," said Kunihiko Miyake, research director at the Canon Institute for Global Studies.
"It's about doing their best to prevent any technology and manufacturing technology that would be a security problem from reaching China," Miyake said, adding that in essence risk reduction and decoupling were the same thing.
There is also the question of whether Beijing sees a distinction between the two ideas.
"It's not like China will do well" because the wording has changed to risk reduction instead of decoupling, Miyake said.
(Reporting by Yukiko Toyoda and David Dolan; Additional reporting by Sakura Murakami, John Irish, Andreas Rinke and Jeff Mason; Editing by Nick Macfie)